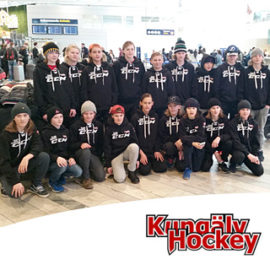 Spring Brings Swedish Hockey to Cornwall
March 23, 2016
Cornwall Ontario – The arrival of spring in Cornwall each year brings with it a few dozen visitors from Sweden. This year is no exception.
A group of hockey players, coaches and their families have made the 20 hour journey from Kungälv Sweden to Cornwall. The purpose of the trip is hockey, but the true goal is to build friendships and connections between the two communities.
It is the 10th Kungälv-Cornwall trip in 11 years, says organizer Lars-Ove Haraldsson, who estimates that about 500 people have made the trek over the years.
"We would not come back if there was not something special about Cornwall and the bonds we forge," said Mr. Haraldsson. "It is an experience that stays with these children forever."
During their stay in Cornwall each of the 18 hockey players, aged 13-14, will be billeted with a Seaway Valley Rapids player, and will attend school with them during the week.
"It will be a wonderful experience for our Swedish visitors to experience a day in the life of a Cornwall kid," says Robert Martin, the contact for Seaway Valley Rapids. "At the same time, our kids gain a broader experience of the world."
Swedish parents and other family members will stay at the Ramada Hotel, and throughout the week will take the opportunity to explore Cornwall.
"There is a lot of things that Kungälv and Cornwall have in common," said Peter Gault, Chair of Team Cornwall. "We have made Mr. Haraldsson an honourary member of Team Cornwall for all of the work he has done to bring our communities together."
The highlight of the trip will be the big friendly game on Friday as Team Sweden faces off against Team Canada. The puck drops at 11:00am at the Benson Centre and the public is welcome to attend.
The Swedish visitors will spend the weekend in Cornwall which includes a trip to see the Ottawa Senators play.  They will also visit Toronto before flying back home.
Mr. Haraldsson expects to be back next year with an even bigger group.
"Each year we are asked by Canadian Customs: Why Cornwall?" said Mr. Haraldsson. "And each year I reply, why not? Cornwall is a great place!"
About Kungälv, Sweden
Kungälv is a city of about 23,000 and is located in the southwestern part of Sweden. The Kungälv -Cornwall connection started with former Cornwall Aces star Niklas Andersson, whose hometown is Kungälv. Mr. Haraldsson works on sporting events for Swedish Television.
Categorised in: Sports