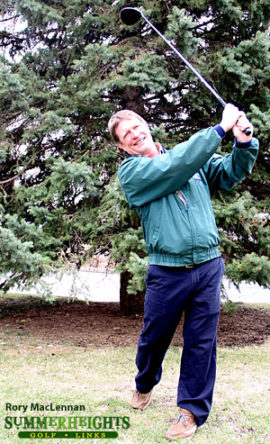 Summerheights Golf Links Opens Fore Season
April 23, 2014
Cornwall Ontario – Standing at the tee box, looking down the flat open fairway, you take notice of the glimmering pond on the right and the taunting sand bunker on the left. Breathing in the fresh seaway valley air on a warm sunny day, you think to yourself, "yeah, this is why I golf."
If you are a golfer, the thoughts of lush green fairways seemed very far off throughout this long, hard winter. Relief is now at hand as Summerheights Golf Links opens tomorrow for the 2014 golfing season.
The MacLennan South Course will open for walkers on Thursday, April 24th.
"It will be nice to see people out on the course again," said Rory MacLennan, owner of Summerheights. "Our staff has been anxious to open the gates."
Staff has been busy rolling out equipment and re-stocking the clubhouse and pro shop. The first cut of the season was on April 19.
"We look forward to opening our second 18 holes in the near future," says Rory. "From then on, we look forward to a busy year."
Summerheights is a 36-hole layout in the City's north-end. The course is owned and operated with Rory and his wife Kathy firmly at the helm. Over the past 50 years, the course has hosted countless tournaments, welcomed celebrities and most of all, allowed Cornwallites an opportunity to learn and love the game of golf.
Rory was just four years old when his father Dwayne and Uncle Ken opened what was then a nine-hole course in 1962. In 1976, the course expanded to 18 holes with an additional 9 holes added 10 years later.In 1997, the course expanded again, offering two complete 18-hole layouts.
Book your tee time for the weekend 613-938-8009 or at www.summerheightsgolf.com.
You can also connect with Summerheights on Facebook and Twitter: