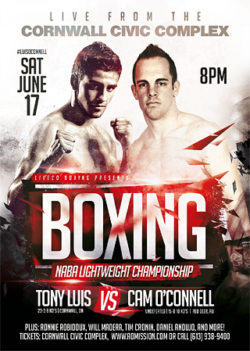 Title on the Line for Luis
June 1, 2017
Cornwall Ontario – Tony "The Lightning" Luis is back in familiar territory for a highly anticipated all-Canadian fight against the undefeated Cam "Irish" O'Connell on June 17 at the Cornwall Civic Complex.
The winner of the fight will also take home the NABA Lightweight Championship.
There is a lot on the line for Mr. Luis. Following a triumphant victory against Mexico's Noe Nuñez just a few weeks ago, the #2 ranked lightweight boxer in Canada has an impressive record of 23-3, 8 KOs. His opponent has equally impressive stats: O'Connell is the #3-ranked boxer in Canada with a 15-0-1, 10 KOs record.
This is a repeat battle for the two boxers. They competed against each other at only 19 years of age as amateurs, with Luis coming out on top.
"He's a talented and motivated fighter," says Mr. Luis. "I'm as hungry as he is and this is a competitive match that I welcome. I'm confident in my ability to beat him."
On O'Connell's end, the talented fighter has a lot of respect for his opponent.  "I'd like to thank Tony Luis for stepping up and taking this fight, a fight the fans are entitled to see," said Mr. O'Connell. "The two best Lightweights in the Country, fighting for a reputable title and the number one spot. Thanks again, Team Luis."
Claiming the title at home is an important step for Luis in his career.
"This is Tony's opportunity to take the next step onto the world stage," says Liveco Boxing CEO Ron Sanderson. "O'Connell is a seasoned fighter and he has a lot of momentum, but Tony will be super-motivated to raise a belt in front of his hometown fans. A big thank you to Mel Lubovac, O'Connell's promoter, for working with us to make the biggest fight in Canada happen."
The Cornwall native has already had a very impressive career, compiling a 78-26 record in over 104 amateur fights, including wins over 10 Canadian national champions. After going pro in October of 2008, he has since earned two WBC Continental American Championships and taken down some of top boxers in the country. When he is not in the ring, Luis works as a counselor at an Indian reserve in the area.
The headlining event is also accompanied by other exciting fights taking place at the Complex. Canadian Light Heavyweight Champion Tim Cronin (9-1-1 2 KOs), originally from Bellville, ON, will face Louisbert Altidor (5-1 1 KO) of Longueuil, Quebec. Akwesasne native Ronnie "Rocket" Robidoux (3-0 2KOs) will join his fellow hometown boxer in the lineup as well as Albany's "ILL" Will Madera (9-0 4Kos) also returning to Cornwall.
Tickets on Sale Now
Tickets are available now at the Civic Complex Box Office, starting at $25. They are also available online at www.admission.com or by phone at (613)-938-9400.
Categorised in: Sports