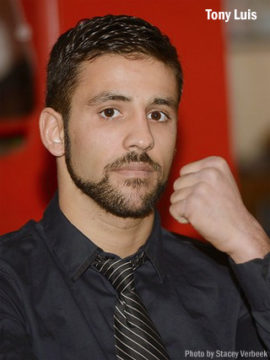 Tony Luis In The Ring Tonight
January 17, 2014
Cornwall Ontario – Cornwall's Tony Luis will be live on television and in top shape for a tough boxing match at the Cook Convention Center in Memphis, Tennessee tonight.
"It's an absolute pleasure to be here and to be part of this great event," said Tony. "I am truly grateful to have this opportunity. January 17th is the birthday of the great Muhammad Ali, so having the opportunity to honour him makes this fight that much more special."
Luis will fight rising star Ivan Redkach in a bout that will be broadcast over the Showtime Network in the U.S.
Luis brings with him a record of 17-1 (seven knockouts) and is considered the World Boxing Association's 12th-ranked contender.
"Tony is a real serious and real hard-working kid," said Greg Cohen of Greg Cohen Promotions. "He has all the talent in the world. When I asked him the other day how he was feeling about the fight, he told me that he wasn't just coming here to fight, but coming to win. That is the attitude that he always has, and I believe in him 100 percent and I believe that one day he will be a world champion."
Luis will be in tough against Redkach, a Ukrainian who now fights out of Los Angeles. He's ranked number 11 by the WBA and hasn't lost yet in 15 fights while knocking out 13 of his opponents.
Six of Redkach's knockouts came in the first round.
Since dropping his only fight last year, an eighth-round TKO, Luis has won back-to-back decisions after going to the judge's score cards.
Tonight's fight is available to Canadian subscribers of the Super Channel package. The event is promoted by DiBella Entertainment, in association with GH3 Promotions, Greg Cohen Promotions and Prize Fight Boxing.
About Tony Luis
Tony Luis is Canada's #1 ranked lightweight boxer and the WBC Contintental Americas Jr. Welterweight Champion. Tony is involved in the community, presenting a positive role model for youth in Cornwall. He is an ambassador for Team Cornwall and Co-Chair of Teen Cornwall.
Tony boxes out of his hometown club, Champs Eastside Boxing Club.
The above story was sourced from a Cornwall Seaway News story onhttp://www.cornwallseawaynews.com. Additional details and photo were sourced fromhttp://www.eastsideboxing.com