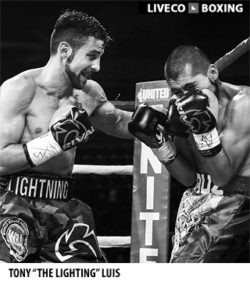 Tony Luis Signs with Liveco Boxing
December 14, 2016
Cornwall Ontario — Tony "The Lighning" Lyis has signed an exclusive promotional contract with Liveco Boxing.
The 28-year-old, who boxes out of Champs Eastside Boxing Club in Cornwall, sports an impressive professional record of 22 wins with only 3 defeats and is considered among the best lightweights in the world today.
"I am lookign forward to working with my new promoters at Liveco Boxing," says Mr. Luis. "They came at a time when my career needed a boost, direction, and a fresh perspective."
"They've promised to treat me fair and give me a fighting chance. I've promised to do the rest."
Managed by his father, Jorge Luis,  Tony Luis began his professional career in 2008, beating David Aguirre of Mexico by unanimous decision. Five months later the battles would get much harder. Eleven days before he was scheduled to fight Mario Andrade, his mother, whose influence and love encouraged him to fight – even when he was ready to quit, died suddenly. Heartbroken, he entered the ring days after burying his mother and unanimously beat Andrade.
Luis has since earned two WBC Continental America Championships. In 2015, as a 7-1 underdog, he dominated and beat previously undefeated Karl Dargan in a stunning upset, propelling him to a top 10 world ranking. However, losses to Ivan Redkach and Derry Matthews (both by disputed decision) hardened Luis into preparing for adversity. Matthews outpointed Luis who was a last-minute replacement in an overseas fight with only four days' notice.
Since then, Luis has strung together three consecutive wins, including a unanimous decision victory over renowned spoiler Christian Uruzquieta at the Hershey Centre in Mississauga, Ontario.
"Tony represents everything that we look for in a boxer. He has an outstanding record, incredible drive, and high integrity as a person," says Liveco CEO, Ron Sanderso
When he's not fighting, Luis is a substance abuse counselor at a boys' home in Cornwall. After narrowly missing a chance to represent Canada at the Beijing Olympics, Luis struggled. Now, having regained his health, and with his boxing career back on track, Luis now helps kids who are having a hard time escape from addiction and reclaim their lives.
"I identify with their pain and struggle," Luis says of his work. "I use my empathy to help them overcome their obstacles."
Categorised in: Sports