St. Lawrence College Broadens Global Study Opportunities
April 12, 2022
Cornwall Ontario – St. Lawrence College students now have increased opportunities to continue their studies abroad.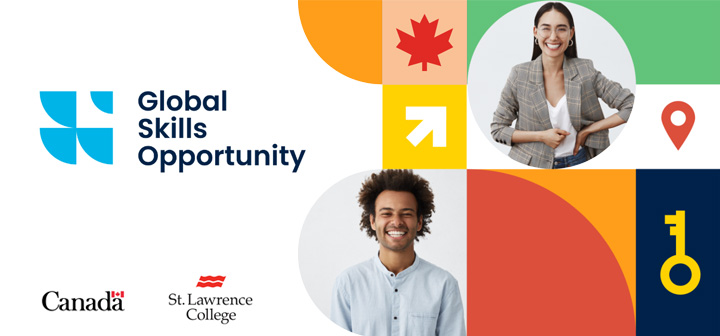 St. Lawrence College (SLC) has signed a renewed and expanded pathways agreement with the Technological University of Shannon (TUS) in Ireland and offer more study abroad opportunities through the government funded Global Skills Opportunity program.
"This is a wonderful announcement for our students, as these agreements will allow them increased opportunities to gain global knowledge and intercultural skills," said Glenn Vollebregt, SLC President and CEO. "We will be able to deepen our relationships with international partners and further our vision of being a globally recognized college."
The pathway with TUS includes programs in fields such as Culinary Management, Hospitality and Tourism, Fitness and Health Promotion, Business, Creative Arts, Biotechnology, and Energy Systems. Diploma graduates from SLC can gain entrance to the third year of a degree or fourth year of an honor's degree at TUS.
Since 2016, more than 70 SLC graduates have taken advantage of this pathway at the Limerick Institute of Technology. The College is renewing the pathway agreement and expanding its collaboration with TUS as it has transformed into a regional hub for higher education in technology and innovation.
In addition to this partnership renewal, the new funding from Global Skills Opportunity (GSO) will provide SLC with $500,000 in funding for up to 72 more students to participate in the GSO program between 2021 and 2025. Next fall, some 20 students will participate in the first faculty-led program in Ireland: Entrepreneurial Thinking in a Global Context, led by SLC Advertising and Marketing professor, Laura Kittner, who will be adopting an innovative approach to teach entrepreneurship and the design thinking process. Business Professor Marion Carroll from TUS will teach multicultural teamwork when students visit the university.
"The GSO is an important way to reinforce SLC's focus on global citizenship. Opportunities such as this provide SLC students with the lived experiences necessary to support the integration and application of skills required to develop a global mindset. In a complex, technological global environment, these skills are more vital than ever," said Eileen De Courcy, SLC Senior VP, Academic.
"The partnership between TUS and SLC has gone from strength to strength over the years. I'm delighted to be collaborating with SLC to offer more opportunities to students through the Global Skills Opportunity," said Donnacha McNamara, VP International from TUS. "TUS will continue to expand our degree completion pathways with SLC into a variety of areas, including Engineering, Applied Sciences, Business, and Humanities. We are delighted to be back in Kingston meeting our wonderful colleagues in person and look forward to strengthening our valued partnership."
About Global Skills Opportunity
Global Skills Opportunity is funded by Employment and Social Development Canada. While jointly administered by Colleges and Institutes Canada and Universities Canada, the programming is delivered to students via their post-secondary institutions (PSIs) through multi-year projects. Colleges, institutes, and universities each play an important role in preparing young Canadians for future opportunities.
About St. Lawrence College
St. Lawrence College is an integral part of the economic life and social fabric of Eastern Ontario, with campuses in Kingston, Brockville, and Cornwall. St. Lawrence College consistently ranks as one of Ontario's leading community colleges, preparing students for the global economy with relevant, practical, and experiential learning opportunities. Offering over 100 full-time programs, St. Lawrence College is a close-knit community of 10,000 full-time students and more than 100,000 alumni.
You can find out more information on the St. Lawrence College website: