St. Lawrence College Opens Rose Rocket Lab
November 20, 2023
Cornwall Ontario – St. Lawrence College has renamed a a computer lab on the Cornwall campus the Rose Rocket Lab, in recognition of a gift of specialized software from Rose Rocket, a Canadian transportation management system software developer.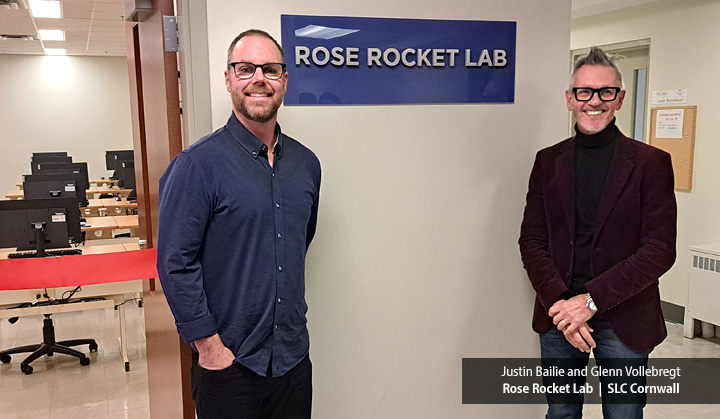 This generous gift-in-kind of software from Rose Rocket, valued at over $115,000, provides students with an opportunity to work with industry-leading technology, ensuring they are more confident and prepared when they graduate. Supply Chain Management faculty and students use the Rose Rocket Platform to replicate trucking company operations and run advanced logistics simulations.
"This software will allow students to complete all tasks from order entry, dispatch, safety and compliance, right up to and including data analysis to see the impact of the day-to-day operational decisions, preparing them to enter the workforce," said Carla Kingston-Floyd, Professor, Supply Chain Management.
Ms. Kingston-Floyd toured Rose Rocket headquarters in Toronto in April and observed Rose Rocket in action. She met with Justin Sky, Co-founder and CEO, Winnie Chen, Director of Marketing and Kyle Humphries, Pre-Sales Consultant, who trained her on the use of the software. She brought her learnings back to the Rose Rocket Lab at SLC to train the next generation of logistics professionals.
"Educating our workforce is one of the best ways to move our industry forward, and we're so proud to be an active technology partner for St. Lawrence College. We love technology because of its ability to deeply transform an industry for the better, and we see this shared value in the St. Lawrence team and everything they do for its student population," said Justin Bailie, Co-Founder, Rose Rocket. "Combining academic theory with hands on experience through the Rose Rocket Labs, will be a lethal combo for the next generation of Supply Chain leaders, and we're so excited to see their impact in the workforce."
St. Lawrence College offers a 1 year graduate certificate program in Supply Chain Management at the Cornwall Campus.  The program builds on the student's previous education and work experience and introduces all facets of supply chain management and logistics from a theoretical and practical perspective.
"I'm so thankful to Rose Rocket for this generous donation to our College," said Glenn Vollebregt, SLC President and CEO. "We specialize in preparing graduates for the ever-changing workforce and labour market needs, and this donation will allow our students to work on the most current software available. I'm grateful to our team at SLC who facilitated this partnership for our current and future students."
Logistics is one of the most essential sectors of the Canadian economy, and involves companies throughout the supply chain, from manufacturers to retailers, from warehouses to transportation companies. Cornwall is identified as one of Canada's key supply chain hubs, with major distribution centres and trucking operations serving Eastern and Central Canada.
The new software was put to use by Supply Chain Management students this semester.
"I was able to input orders, create the manifest, and do the dispatching, which I don't have any experience [in] and I enjoy that area, because of Rose Rocket," said Vinit Pawaskar, Supply Chain Management student. "I intend to divert to the transportation industry in the future. If I start my own fleet for my business, I will consider Rose Rocket as my first option."
Jobs in Supply Chain Management
There are approximately 500 open positions in the supply chain sector in Cornwall. Current employment opportunities in logistics and transportation can be found on the Choose Cornwall Job Board.
About St. Lawrence College (SLC)
St. Lawrence College is situated on the traditional lands of the Anishinaabe and Haudenosaunee peoples; we are grateful to live and learn on these lands. With campuses in Kingston, Brockville, and Cornwall, SLC delivers education and training that meets the needs of community, industry, and employers. The College prepares students to succeed in the global economy through relevant, practical programs and experiential learning opportunities. SLC offers more than 100 full-time programs including diplomas, degrees, graduate certificates, apprenticeships, micro-credentials and life-long learning opportunities. Everyone belongs in the SLC community, comprised of 12,000 full-time students and more than 120,000 alumni in 75 countries around the world.