St. Lawrence College Scores Above Provincial Average in Annual Survey
January 26, 2023
Cornwall Ontario –  One hundred per cent of employers of St. Lawrence College (SLC) graduates are satisfied or very satisfied with their hires, scoring well above the provincial rate of 88.9 per cent, according to the annual Key Performance Indicator (KPI) survey released on January 25, 2023. The KPI survey results reflect the experience of students who graduated in the 2020-2021 academic year.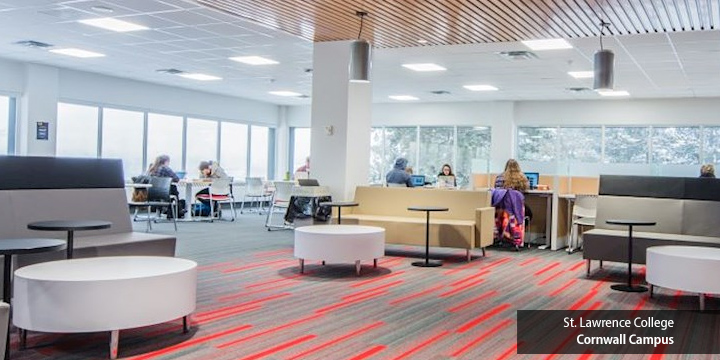 St. Lawrence College also scored well above the provincial average in the other KPIs:
91.1 per cent of St. Lawrence College graduates were working within six months of graduation; provincially the Graduate Employment Rate was 83.4 per cent.
79 per cent of St. Lawrence College graduates were satisfied or very satisfied with the quality of their education; provincially, the Graduate Satisfaction Rate was 75.4 per cent.
"SLC consistently scores above the provincial average in the KPIs," said Glenn Vollebregt, SLC President and CEO. "Our 100 per cent Employer Satisfaction Rate shows how we fill the need for qualified, highly skilled graduates for in-demand careers and reflects the tremendous work done by our faculty and staff."
The Cornwall Campus of St. Lawrence College is nestled on the banks of the St. Lawrence River, immediately adjacent to the popular Waterfront Trail. Over 1100 students currently study in Cornwall, including a large number of international students. Many of the local students find jobs with Cornwall employers.
"These results truly demonstrate the incredible caliber of college students in Ontario, and the important role they fill in meeting the workforce needs of provincial employers and industry. If you haven't met or recruited an Ontario college graduate, I encourage you to get connected and see how their skills and talents will help your business or organization," added Mr. Vollebregt.
Provincial KPIs are gathered annually by two independent research firms for the colleges and for the Ministry of Colleges and Universities.
For complete KPI results visit www.collegesontario.org.
Jobs in Cornwall
Current employment opportunities at Cornwall and area employers can be found on the Choose Cornwall Job Board
About St. Lawrence College
St. Lawrence College is an integral part of the economic life and social fabric of Eastern Ontario, with campuses in Kingston, Brockville, and Cornwall. St. Lawrence College consistently ranks as one of Ontario's leading community colleges, preparing students for the global economy with relevant, practical, and experiential learning opportunities. Offering over 100 full-time programs, St. Lawrence College is a close-knit community of 10,000 full-time students and more than 100,000 alumni.
You can find out more information on the St. Lawrence College website: