St. Lawrence College to Hold Spring Open House
March 15, 2023
Cornwall Ontario – St. Lawrence College will be holding a Spring Open House on Saturday April 1st at the Cornwall campus from 9:00 am to 12:00 pm.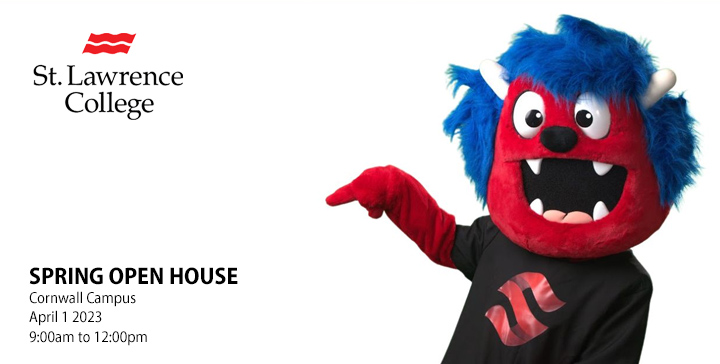 Visitors to the Open House can expect demonstrations of college programs, tours of the campus and residence, a fair of service providers and a variety of games where you can win prizes.
"Open House is a terrific chance for anyone wondering what college offers! Whether you are a student or someone considering upskilling, coming to Open House will let you see the facilities, people, and services available to all our students," says Glenn Vollebregt, SLC President and CEO. "There's never been a better time to be an Ontario college student – our programs are practical and reflect real-world business and industry settings and expectations. Our graduates are equipped to succeed when they begin their careers, and they start creating connections right from the first day that they join us."
Starting at 9:30 am faculty will lead scheduled program sessions and service workshops along with some interactive demonstrations you can participate in.  The Services Fair starts at 9:00am and offers information on OSAP/Financial Aid, Student Wellness & Accessibility, Academic Support Centre & Peer Tutoring and more.
"We are looking forward to giving people a sneak peek of what college life is like," says Richard Wiggers, Dean of the Cornwall Campus. "Come and spend some time with us on Saturday morning!"
Register Now!
The Spring Open House is an event for anyone interested in learning more about St. Lawrence College. Registration is through the SLC web site:
More information on the Spring Open House can be found here:
About the Cornwall Campus
The Cornwall Campus of St. Lawrence College is nestled on the banks of the St. Lawrence River, immediately adjacent to the popular Waterfront Trail. The campus has recently received a major redevelopment, resulting in new classrooms, new equipment and an overall improved experience. There are eight (8) areas of study offered on the Cornwall campus, including business, community and social services, health sciences, science and technology and skilled trades. The College also offers a wide range of micro-credentials.
 About St. Lawrence College
St. Lawrence College is an integral part of the economic life and social fabric of Eastern Ontario, with campuses in Kingston, Brockville, and Cornwall. St. Lawrence College consistently ranks as one of Ontario's leading community colleges, preparing students for the global economy with relevant, practical, and experiential learning opportunities. Offering over 100 full-time programs, St. Lawrence College is a close-knit community of 10,000 full-time students and more than 100,000 alumni.
You can find out more information on the St. Lawrence College website:
Categorised in: Business, Community, Environment, General, News