St. Lawrence College to Host Skills Competition in Cornwall
April 21, 2023
Cornwall Ontario – St. Lawrence College (SLC) will be hosting the Eastern Ontario Skills Competition on Tuesday, April 25 in Cornwall.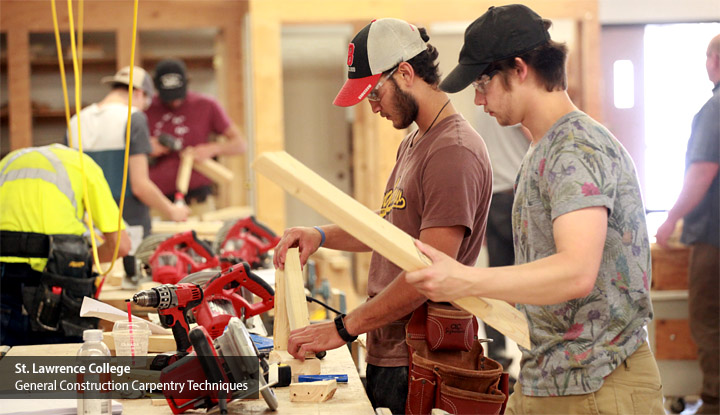 Students from local school boards will compete at SLC applying various skills in Automotive, Welding, Carpentry, Cabinet Making, Photography, TV/Video Production, Small Powered Equipment and more.  
"The skills competition events are always a wonderful opportunity to connect with young students on our campus," said Daniel Liao, Dean, Applied Science, Trades and Technology at SLC. "Hosting it at the College is great way for us to participate in this educational community event in collaboration with our local secondary schools, as well as showing the breadth of opportunity that exists at SLC if students want to train and pursue a career in the skilled trades." 
Competing students demonstrate their talent and creativity with specific tasks to perform, or scenarios to complete, within a specific time frame, and are judged by industry specialists. Some of SLC's industry partners will also be on campus that day with information booths for students and the public to learn more about skilled trades. 
We're thrilled to host the Skills Competition at SLC," said Glenn Vollebregt, SLC President and CEO. "At a time of critical need for more skilled trades workers, demonstrating to our region's high school students the amazing opportunities that exist to become trained in the trades is a great way to connect future talent with information about the range of opportunities available to them." 

Members of the public are welcome to check out the competitions from 9 am to 3 pm.
About Skilled Trades at SLC
SLC's Skilled Trades programs prepare students for a career with real world skills that employers require. A wide selection of apprenticeship programs are available for individuals wishing to start a high demand skilled trade or those who want to advance their skills. The following Skilled Trades programs are available in Cornwall:
General Construction Carpentry Techniques
Carpenter – Apprenticeship
Motive Power Technician
Automotive Service Technician – Apprenticeship
Welder – Apprenticeship
Welder – Pre Apprenticeship Stream
Welding and Fabrication Technician
Learn more about Skilled Trades at SLC.
About Skills Ontario Competition
The Skills Ontario Competition offers a unique opportunity for top students to demonstrate that they are the best of the best in their field. Over the two and a half days, they turn the heads of their educators, family, friends and prospective employers. Winners are awarded with Gold, Silver or Bronze medals – and some with monetary awards, too – and the opportunity to compete at the Skills Canada National Competition. From there, competitors could be headed to a WorldSkills Competition.