St. Lawrence College To Offer Nursing Credential Upgrading Courses
March 7, 2023
Cornwall Ontario – St. Lawrence College is offering internationally educated nurses the opportunity to upgrade their credentials while continuing to work.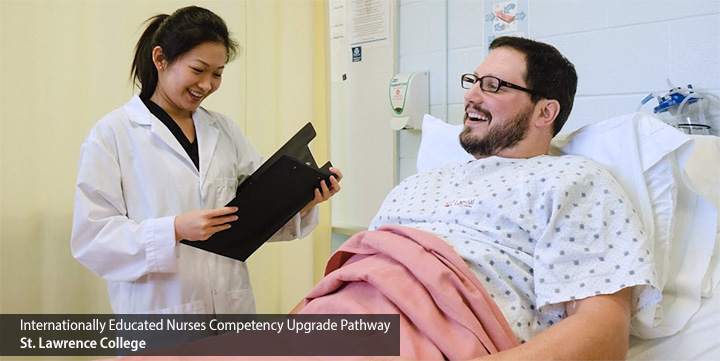 The new pathways will bolster the province's healthcare workforce by allowing more nurses to get training to help them advance further in their careers. Courses, labs, and clinical opportunities will be offered on all three of SLC's campuses in Kingston, Brockville, and Cornwall.
The IEN Competency Upgrade Pathway, which began this past February, provides tuition-free upgrading courses for internationally educated nurses (IENs) who want to qualify as registered practical nurses (RPNs) and registered nurses (RNs) in Ontario. The courses address specific educational needs and provide an efficient path toward meeting the College of Nurses of Ontario's (CNO) requirements and are funded through the Ontario government's Nursing Program Transformation in Ontario's Colleges initiative. The courses are designed to offer flexible study options for working IENs.
Eligible IENs will meet the following criteria, including:
Proof of one of the following:

Canadian citizenship status; or
Canadian permanent resident status; or
Appropriate authorization under the Immigration and Refugee Protection Act (Canada) that permits you to engage in the practice of nursing in Ontario.

A letter from CNO containing the results of your education assessment and the additional education you need.
SLC will also offer new upgrading courses for personal support workers (PSWs) who are interested in becoming registered practical nurses. Students who successfully complete the PSW-to-practical-nursing pathway will be eligible to fast track into a practical nursing program at the college.
"We're grateful to be able to offer credential upgrading at a time of critical need in our communities for more nursing professionals to be working in our hospitals," said Glenn Vollebregt, SLC President and CEO. "SLC is highly regarded for educating healthcare professionals, and this is one more way we can be a part of the long-term solution to filling a workforce need."
More Info
Click here for information about IEN credential upgrading at SLC.
Nursing Jobs in Cornwall
Current employment opportunities in the Health Care sector can be found on the Choose Cornwall Job Board
About St. Lawrence College
St. Lawrence College is an integral part of the economic life and social fabric of Eastern Ontario, with campuses in Kingston, Brockville, and Cornwall. St. Lawrence College consistently ranks as one of Ontario's leading community colleges, preparing students for the global economy with relevant, practical, and experiential learning opportunities. Offering over 100 full-time programs, St. Lawrence College is a close-knit community of 10,000 full-time students and more than 100,000 alumni.
You can find out more information on the St. Lawrence College website: