St. Lawrence Marathon Set for Saturday
April 23, 2019
Cornwall Ontario – The St. Lawrence Marathon draws runners from far and wide – including Mexico, Kenya, Florida and New Hampshire.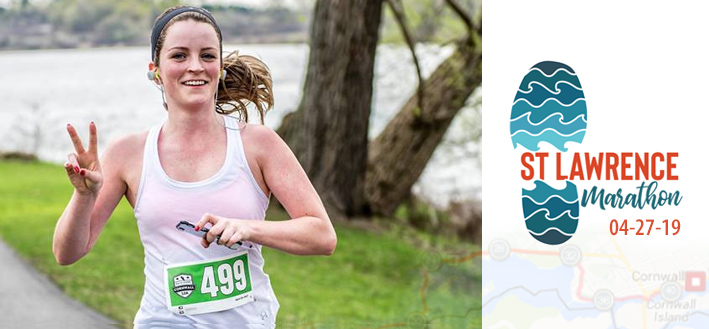 That's just a small sampling of the roll call for this year's St. Lawrence Marathon, which returns this Saturday with a big field of 675 runners. In addition to the international competitors, this year's race will feature runners from across Ontario and Quebec as well as Alberta, Manitoba and the Maritime provinces.
It's encouraging news for an event that has grown steadily in size and stature over the past 18 years to become one of eastern Ontario's most affordable and scenic races. The marathon's status as a Boston Marathon qualifier has also turned it into a can't-miss race for many runners.
"This race is an example of everything amazing this region has to offer – beautiful scenery, awesome people, a supportive business community, and top notch collaboration and team work," said Race Director Katie Verhoeven. "It's the result of 18 years of hard work and dedication from hundreds of volunteers and thousands of runners from near and far."
The Boston qualifying marathon (42.2K) extends from Crysler Marina near Upper Canada Village along the beautiful Waterfront Trail to St. Lawrence College, with the race kicking off at 7 am. There's also a half marathon (21.1K) and 10K and 5K runs starting at 9 am and 10 am respectively from St. Lawrence College.
"One thing that really makes this event stand out is the race course," said Ms. Verhoeven. "Participants often tell us how much they enjoy running right along the St. Lawrence River and the Waterfront Trail."
Spectators are encouraged to come out and cheer on the athletes along the race route. The finish line at the college is a great location to take in the action, and the awards ceremony begins at 11:30 am.
This year marks a new chapter of sorts for the event, having undergone a name change and branding facelift which has garnered plenty of positive feedback. It had previously been known as the Run to End MS and became an annual fundraiser for the MS Society. To mark the 15th anniversary of the event in 2016, a marathon distance was added and it became a Boston qualifier, fueling further growth in the event.
As a result of changes for the MS Society, the race is no longer affiliated with the organization. However it will remain a not-for-profit event with a focus on continuing to build the event into a major tourist event for the region.
"Our hope is to keep building the St. Lawrence Marathon to become an even larger, festival-type running event," said Ms. Verhoeven. "We're excited about the future and the exposure this event can bring to our region."
Additional Information
For more information on the St. Lawrence Marathon, please visit the
What's On in Cornwall
The St. Lawrence Marathon is just one of many events taking place in Cornwall this weekend. For more information on upcoming events and other other fun things to do in Cornwall, check out Cornwall Tourism's website.