St. Lawrence Seaway Opens for 2021 Season
March 22, 2021
Cornwall Ontario – The St. Lawrence Seaway Management Corporation announced the opening of its 63rd navigation season today. The CSL Group's Baie St. Paul, a Trillium-class Laker, was the first ship through the St. Lambert Lock in a virtual opening ceremony.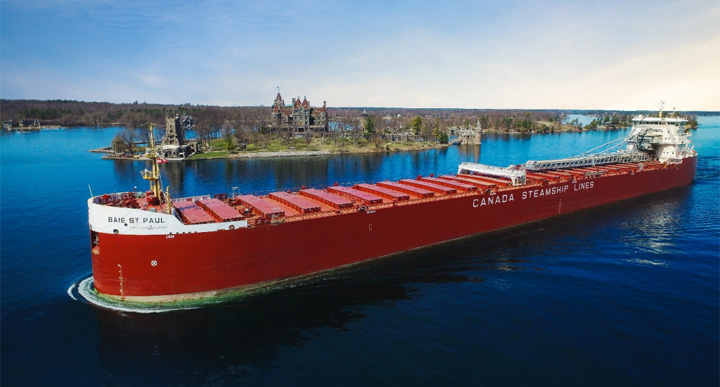 With its outstanding reliability, reduced ecological footprint and strong safety record, the Seaway is ready to partner with Canadian and US industries and communities to help the global economy
recover.
"The St. Lawrence Seaway has been a cornerstone of Canada's economic success for more than 60 years, through the creation of thousands of middle-class jobs, and the generation of more than $9 billion in Canadian economic activity," said the Minister of Transport, the Honourable Omar Alghabra. "This valuable partnership and trade route will play a vital role in our efforts to building
back better through strong economic recovery."
Some 38 million tonnes of cargo transited the St. Lawrence Seaway in 2020, which closely matched last year's results. The stringent protocols put in place by the Seaway and by carriers early in the pandemic resulted in no interruption in service due to COVID-19. The protocols will remain in place until the pandemic is contained.
"The Seaway's consistently high level of system availability contributes to a robust, competitive Great Lakes – St. Lawrence Seaway transportation route," declared Terence Bowles, President and
Chief Executive Officer of the St. Lawrence Seaway Management Corporation. "We provide convenient access to an impressive number of industries, ports, highway and rail networks."
It is expected that there will be an uptick in global economic growth in 2021. On the heels of last year's record harvests, grain shipments are expected to be strong early in the season. Iron ore and steel will be shipped via the Seaway to factories in Canada and abroad, and massive wind farm equipment will continue to be transported via the Seaway.
Moving forward, the Corporation will continue working with national and international carriers and shipping companies to maximize opportunities to diversify its cargo base and increase volumes, as well as reinforce its reputation as a leader in the North American transportation system.
Quick Facts
The Great Lakes St. Lawrence River System is a "marine highway" that extends some 3,700 km from the Atlantic Ocean to the Great Lakes.
Over 200 million tonnes of cargo travels over the System on an annual basis, supporting over 329,000 jobs and $59 billion in economic activity in Canada and the United States.
The binational St. Lawrence Seaway serves as the linchpin within the broader waterway, connecting the lower St. Lawrence River to the Great Lakes.
Beginning in Montreal and extending to points west, the Seaway's 15 locks (13 Canadian and 2 U.S.) enable ships to climb a total of 168 metres from "sea level" up to Lake Erie.
About The St. Lawrence Seaway Management Corporation
The St. Lawrence Seaway Management Corporation was established in 1998 as a not-for-profit corporation by the Government of Canada, Seaway users and other key stakeholders. In accordance with provisions of the Canada Marine Act, the Corporation manages and operates the Canadian assets of the St. Lawrence Seaway, which remain the property of the Government of Canada. For more information on the St. Lawrence Seaway, please visit: