Strengthening Global Relations in Cornwall
May 24, 2019
Cornwall Ontario – Cornwall welcomed a number of high-ranking military officials from around the world this week.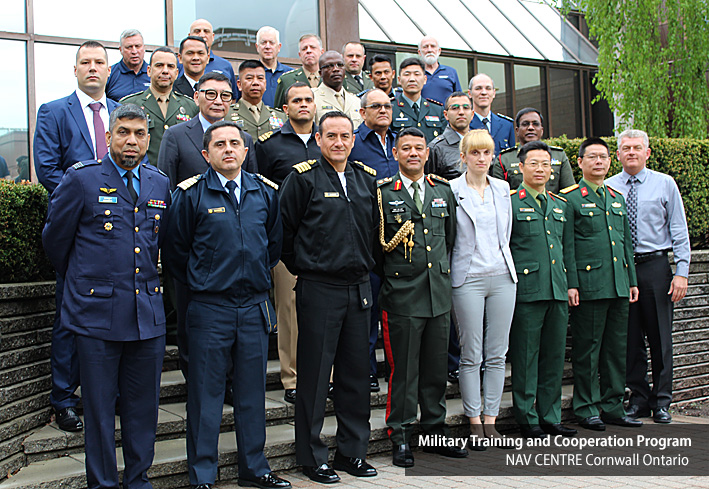 In all 22 officers from 17 different nations, including Brazil, Columbia, Nepal, Ukraine, Vietnam and the Philippines, participated in a recent week long training exercise at NAV CENTRE.
The group was in Cornwall to attend a course that explored a number of topics from cyber-crime to governance structures to foreign policy.  It is part of the Military Training and Cooperation Program – a broad-based defence diplomacy program that advances Canada's contribution to international peace and security.
"We use military training and capacity building in the area of peace support operations to develop and strengthen bilateral relations with countries of strategic interest to Canada," says Colonel Marcel McNicoll, Director of Military Training and Cooperation with the Canadian military.  "At the same time our goal is to introduce the participants to Canadian culture and Cornwall is a great place to do that."
Program objectives include force interoperability and the promotion of democratic principles such as international stability, human rights protection, women peace and security. Course sessions were led by a team of experienced educators from the Calian Group.
"It's all about sharing experiences and taking back that knowledge to their respective countries," says Brigadier-General Lise Bourgon, the Deputy Chief of Staff Operations in the Canadian Joint Operations Command. Brigadier-General Bourgon was on hand to congratulate the participants on completing the course.
Over 25,000 candidates have received training under the Military Training and Cooperation Program since its establishment in 1963. Currently, the program serves about 2200 foreign students per year for courses that are delivered to 67 current member countries around the world.
The current course at the NAV CENTRE is considered a pilot project, with the potential for more courses in the future.
About the Canadian Armed Forces
The Department of National Defence and the Canadian Armed Forces implement government decisions concerning the defence of Canadians' interests at home and abroad. The Canadian Armed Forces serve on the sea, on land, and in the air with the Navy, Army, Air Force and Special Forces. They are supported by the civilian employees of National Defence.
About NAV CENTRE
The NAV CENTRE is a training and conference venue owned and operated by NAV CANADA. It offers access to 535 guest rooms, 70 state-of-the-art classrooms and meeting rooms, as well as an auditorium. Other amenities include a gymnasium and fitness facilities as well as multiple dining options. The NAV Centre is also an accredited member of the International Association of Conference Centres (IACC), provided for adhering to globally-recognized standards in hospitality service.