STUFF Magazine Features Cornwall in 4th Edition
November 22, 2022
Cornwall Ontario – From everyday items to world-class products in every sector, what's made and built in Eastern Ontario is truly impressive. Companies making those products are looking to grow their teams by offering exciting new career pathways.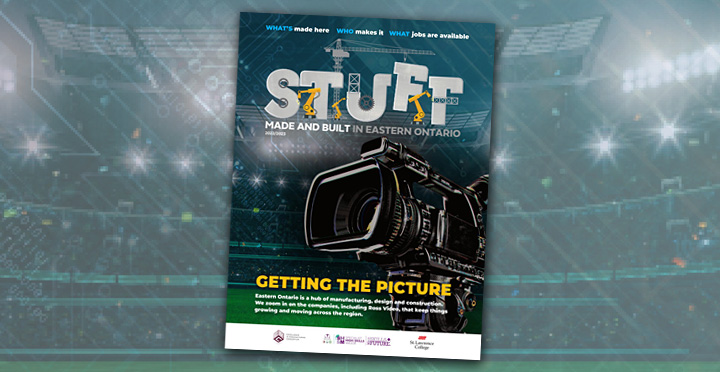 Do you have the right stuff? That's the theme of the latest issue of STUFF Made and Built in Eastern Ontario, an interactive digital and print magazine celebrating the successes and promoting the opportunities in the region's manufacturing and construction industries.
"Across Eastern Ontario, there are thousands of dynamic and innovative companies making and building stuff, many of them operating under the radar," says STUFF publisher Terry Tyo. "The one thing all these companies have in common is they depend on a creative, talented workforce in a wide variety of careers. They are looking for people who want to work with their hands and their heads, people who take great pride in the skills required in making stuff and those who want to be on the edge of the digital transformation."
The fourth edition of the popular magazine highlights well-paying and rewarding careers in communities across Eastern Ontario. STUFF includes a two page profile on Cornwall, in addition to information on local companies including Fieldless Farms, Zipgrow,  Laminacorr, Morbern, Olymel, Lactalis and Ross Video. The 2022-23 edition also has a major feature on St. Lawrence College.
"There are over 500 jobs available in Cornwall right now, and the latest edition of STUFF helps to get the word out about these career opportunities," says Mayor Justin Towndale.  "It is nice to see the magazine supported by both the private and public sector as we highlight the advantages of working and living in Eastern Ontario."
Jobs in Cornwall
Cornwall companies continue to recruit across a wide variety of sectors. Current employment opportunities can be viewed online on the ChooseCornwall.ca Job Board. Job seekers may also wish to download the Cornwall Career Guide and view of series of videos profiling local employers:
Get Your Hands on STUFF
STUFF magazine will soon be available at high schools, college and employment centres across the region. Locally, copies of STUFF are available at the Civic Complex and on request from Cornwall Economic Development via the online Information Request form. You can also view the magazine online here: