Summer Company Program Launches 7 New Businesses
June 29, 2023
Cornwall Ontario – Running your own student business is one of the best summer jobs you can have. This summer, seven young entrepreneurs from across Cornwall and SDG are turning their business ideas into reality with assistance from the Summer Company program.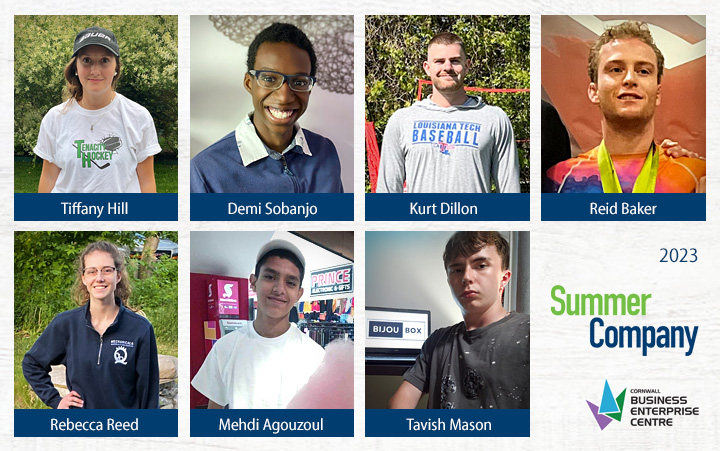 The seven entrepreneurs partaking in Summer Company this year are:
Tiffany Hill – Tenacity Hockey
Oluwademilade Sobanjo – Mind Mosaic
Kurt Dillon – Strikeout Squad
Adam Reid Baker – Seaway Martial Arts Camp
Rebecca Reed – Great White North Robotics
Ahmad El Mehdi Agouzoul – Pop N' Fluff
Tavish Mason – BijouBox
Funded by the Government of Ontario, and administered by the Cornwall Business Enterprise Centre, Summer Company encourages students to start and run their own business. In return, participants will receive $3,000 in start-up funding assistance along with hands-on coaching and mentoring from local business leaders. These young adults were selected to participate in the program after completing detailed business plans, including marketing and financial projections
"This program provides a great opportunity for our participants to develop entrepreneurial skills while making money at the same time," said Shauna Baggs, Business Consultant with the Cornwall Business Enterprise Centre. "Through Summer Company, we are helping to develop future community business leaders."
This year's Summer Company participants will provide services such as: summer camps, popcorn and cotton candy vendor, jewelry, robotic lawnmower, and mind mapping app .
The Summer Company can be a stepping stone for students to continue their businesses through their high school and post secondary years.  Several past Summer Company participants who have finished their studies are now operating successful, full time businesses in our community, including Essential Esthetics, Crystal's Beautique Spa and Beauty Lounge and Ol'Sugar Barn Ice Cream Stand.
About the Cornwall Business Enterprise Centre
The Cornwall Business Enterprise Centre helps small business owners and entrepreneurs succeed in Cornwall, Stormont, Dundas, Glengarry & Akwesasne by offering information, tools and support during the start-up and growth stages of business operation. This includes administration of the Summer Company and Starter Company PLUS programs. The Cornwall Business Enterprise Centre is operated by Cornwall Economic Development and funded in part by the Government of Ontario.
The Cornwall Business Enterprise Centre is located at 100 Water Street East (Cornwall Civic Complex) :