Supercharge Your Career at Best Places to Work Expo
August 24, 2023
Cornwall Ontario – How would you like to network with dozens of the region's best employers?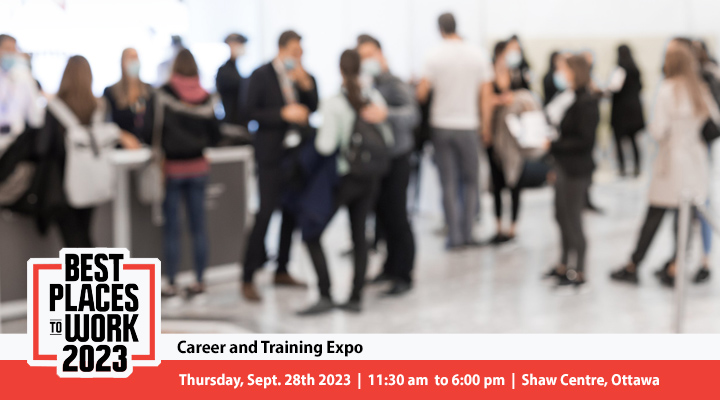 That's the main idea behind the inaugural Best Places to Work Career and Training Expo, scheduled for Sept. 28 at the Shaw Centre from 11:30 am to 6:00 pm.
The event is expected to attract thousands of job seekers from Ottawa and the region, including students nearing the end of their studies the University of Ottawa, Carleton University, Algonquin College and La Cité.
The event is being organized by the Ottawa Business Journal in partnership with the Ottawa Board of Trade and WCG Employment Ontario.
"We repeatedly hear from business leaders that attracting talent is one of the biggest challenges they face," says OBJ publisher Michael Curran. "We want to help with that challenge in a very direct way. We're planning a really dynamic event that proudly and loudly demonstrates to students, experienced workers and new Canadians that Ottawa and Eastern Ontario are the best places to work and live."
The expo will feature dozens of exhibitors from industries, including logistics, technology, construction, manufacturing, professional services and the public sector. Several local employers will be exhibiting, including Leclerc, Walmart Logistics, Witron, Ross Video and the Cornwall Community Hospital. Employment opportunities at the City of Cornwall will also be on display, and local economic development organizations including Cornwall Economic Development, SDG Economic Development and the Eastern Ontario Training Board.
A limited number of attendees will receive complimentary business portraits. Similarly, local professionals will be conducting one-on-one career mentoring sessions. Amanda Barresi of WCG says her group is eager to leverage the expo to help job seekers and employers.
"We're thrilled to bring top-tier services to both job seekers in pursuit of new opportunities and employers aiming to expand their teams. It all begins at the Best Places to Work Expo!"
Main Stage Presentations
Main stage presentations throughout the day will provide attendees with local data on career trends, as well as education and training opportunities. At 5:00 pm, OBJ and the Board of Trade will recognize the recipients of Best Places to Work 2023, an awards program that celebrates companies with highly engaged workforces.
Plan to Attend!
Attendance is free with advance registration. Register today at www.bestplacestoworkottawa.ca.
Thursday, Sept. 28th 2023

Shaw Centre (55 Colonel By Drive), Canada Hall 3

Doors open at 11:30 am / doors close at 6:00 pm
Available Jobs in Cornwall
There are an estimated 500 available jobs in Cornwall, ranging from entry level to senior management positions. Cornwall Economic Development staff will be on hand to answer questions in Booth 200. Current job postings can be viewed on the ChooseCornwall.ca Job Board.