Support local movement gains momentum during COVID-19 pandemic
April 9, 2020
Cornwall Ontario  – The COVID-19 pandemic has completely uprooted community life as we knew it. But in some ways, it has also brought the community closer together as we collectively work to combat the spread of the virus.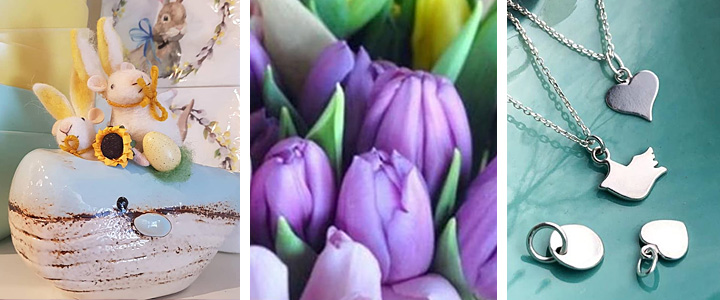 In Cornwall, this has translated into a renewed focus on supporting and shopping local. There's a strong desire to support local shops, restaurants and service providers that have seen their operations drastically changed by the emergency orders and public distancing measures put in place.
With non-essential businesses now physically closed to the public, a growing number of local retailers have moved to online sales or safe delivery and pick up services to carry on.
Like others, Life's Little Pleasures, a staple in Downtown Cornwall, has taken to selling items on Facebook with electronic payment and safe home delivery.
"I am finding that people are trying to be supportive of our local businesses right now," said shop owner Chris Munro. "It's evident in the gift certificate program that was launched and with the online interactions I've had that our community is really pulling together to help see us all through this. I've been overwhelmed with people reaching out and actually saying that they are wanting to shop local through this."
Fellow business owner Amanda Gaucher of Floral Expressions has also gone mobile, offering no-contact delivery of flower orders from her shop.
Gaucher and other retailers are even taking time to give back. This week, she sold packs of spring tulips with a portion of the sales being donated towards personal protection equipment for staff at the Cornwall Community Hospital. Meanwhile, Love and Lee has been selling special 'Homebody' sweaters with all of the proceeds being donated to the United Way of S, D & G (the sale ends Friday).
"It's a tough and confusing time for small business. We're truly in this together," Gaucher said. "I'm hoping our flowers and deliveries can add hope and brighten someone's day."
Other shops like Fantasy Realm and Crush Lane have online sales platforms to at least partially mitigate the effects of the pandemic. Fantasy Realm does online sales through eBay while Crush Lane has an eCommerce platform built into the store's website.
"What's going on with this international pandemic is unprecedented," said Crush Lane owner Tarah Zaczyk. "For small business owners, the effects have surpassed our wildest expectations. As I navigate my changing roles as a stay-at-home-mom, I worry for the stability of my business that I have worked so hard to build."
Although Crush Lane has online sales capacity, Zaczyk notes that it simply doesn't compare to the revenues that come from operating a brick and mortar shop.
"It's now more important than ever that we support small business in a safe and responsible manner," she added.
For a listing of local retailers offering online and alternate services during the COVID-19 pandemic, please visit Cornwall Tourism.
Community initiatives
The support local movement has been aided in recent weeks by the launch of two new initiatives.
ShopCornwallandarea.ca
This new initiative by the Cornwall and Area Chamber of Commerce provides an online platform to local businesses to list their products and services, hours of operation and ways to purchase. The Chamber will also be offering support to local businesses that wish to set up eCommerce platforms.
Cornwall Gift Certificates
Local entrepreneur Kelly Bergeron has set up a Shopify platform where residents can buy gift certificates from local businesses to be used at a later date. Over 160 businesses are part of the platform and it has already generated over $15,000 in sales.
Play it safe
We all have a part to play in reducing the spread of COVID-19. Pay close attention to the updates from public health officials. Wash your hands frequently, sneeze and cough into your sleeve, stay home if you aren't feeling well and maintain a distance of at least two metres from other people. Stay home as much as possible and avoid all non-essential outings. Shop alone when possible and only when necessary.

We summarize the latest news about the impacts of COVID-19 on Cornwall businesses on a daily basis. Click on the following link to view: