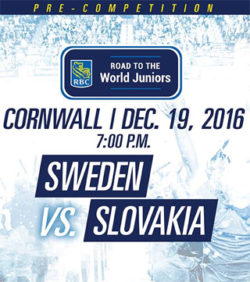 Sweden Slovakia and Denmark add World Junior Flavour to Cornwall
November 23, 2016
Cornwall Ontario – Sweden will face off against Slovakia in a warm up tilt for the World Junior Hockey Championships, and Denmark will hold their training camp in Cornwall as they prepare for what many view as one of the world's most exciting hockey tournaments.
"It is wonderful that Eastern Ontario residents will have a chance to see fast-paced international hockey at the Cornwall Civic Complex," said Mayor Leslie O'Shaughnessy. "I'm looking forward to seeing the stars of tomorrow."
Team Sweden  vs Team Slovakia
Team Sweden will play Team Slovakia on Monday, December 19th, 2016 at 7:00PM at the Cornwall Civic Complex. The Complex is well known to hockey fans in Eastern Ontario as it has previously hosted major tournaments such as the RBC Cup.  The Cornwall game is part of a pre-competition tour of 10 games ahead of the 2017 IIHF World Junior Championship will extend the excitement of world-class hockey outside of the two tournament host-cities, Montreal and Toronto.
Team Denmark to Practice at the Benson Centre
In addition to the World Junior Exhibition game, Team Denmark will call the Benson Centre home from Thursday, December 15th to Friday, December 23rd, 2016, where they have scheduled multiple practices daily from 9:30AM to 11:00AM and 4:30PM to 6:00PM. These practices are open to the public at no charge.
After the pre tournament camp, Denmark will move on to the Bell Centre in Montreal for their first game of the World Juniors on Boxing Day.  Frederik Andersen (Toronto Maple Leafs), Nikolaj Ehlers (Winnipeg Jets), Lars Eller (Washington Capitals) and Frans Nielson (Detroit Red Wings) are all Danish players currently playing in the NHL.
"As a long-time supporter of hockey and amateur sport in Canada, RBC is thrilled to provide the opportunity to present the world's best young hockey players to fans in smaller communities," said Matt McGlynn, senior director, Brand Marketing, RBC.  "We're also pleased to use these games to help celebrate Canada's 150th anniversary by extending our #Make150Count campaign to local youth to help them make a difference in their communities."
Tickets are Now on Sale
Tickets are now on sale on for the Sweden vs Slovakia game at the Cornwall Civic Complex Box Office, either in person or by phone at (613) 938-9400. Tickets can also be obtained online at www.Admission.com or by calling 1-855-790-1245. Ticket prices are $15 each, and group tickets of 20+ are $13 each.  Doors for the game open at 6 pm.
For more information on Hockey Canada, Canada's National Junior Team and the 2017 IIHF World Junior Championship, please visit HockeyCanada.ca, or follow on social media via Facebook and Twitteror Twitter.com/HC_Men.
About Cornwall Civic Complex
Situated in scenic Lamoureux Park on the banks of the St. Lawrence River, the Cornwall Civic Complex is a highly versatile and modern facility.  The heart of the Civic Complex is the Ed Lumley Arena, a modern ice rink that boasts seating for up to 5,800 people for concerts and special events.
The Civic Complex has hosted a number of special events in recent years such as the RBC Cup National Junior A Hockey Championship and concerts by Hedley, Nickelback, Alice Cooper and Blue Rodeo.
For more information on the Civic Complex, please visit www.Cornwall.ca.
Categorised in: News