TD Opens New Branch in Cornwall
March 26, 2021
Cornwall Ontario –  TD Bank has opened its new branch in the heart of Cornwall at the corner of Pitt and Ninth Streets.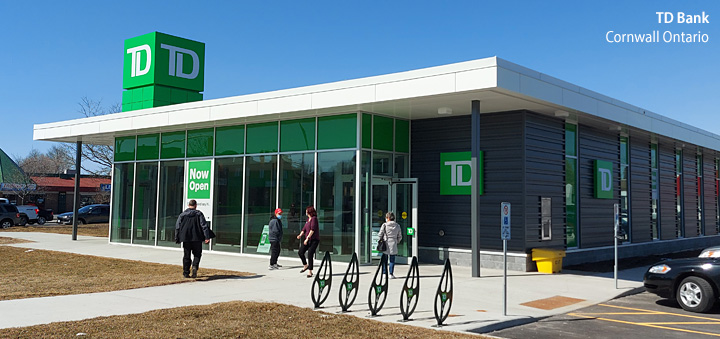 The new 6,500 square-foot branch consolidates two former branches in the City, offering customers a fresh place to do their banking.
"The reaction from both our customers and colleagues has been overwhelmingly positive," says Shari King, Branch Manager. "TD has been a proud member of the Cornwall community for over 100 years, and we look forward to continuing to serve our customers and helping them with advice to feel more confident in their financial futures."
The new branch incorporates the latest TD design standards from the bold exterior architecture to the modern contemporary interior. Customers will find a warm inviting branch that seeks to facilitate staff and client interactions in a secure and safe manner. No part of the branch has been spared an upgrade, including private offices, a customer service counter and the very latest in technology – including one drive through and three walk-up Green Machines. The new branch even includes the icon green leather armchair that has become synonymous with TD customer service.
"This has been a tough year in so many ways for Canadians, including our customers right here in Cornwall," says Ms. King. "This reinvestment is a statement that better days are just ahead and that TD is here to help."
One of the community causes that TD champions is the TD Friends of the Environment Foundation and in addition to a number of other sustainable efforts, the branch includes several new bicycle lock stations and furniture and carpeting made from recycled material.
While the branch is open for business, TD continues to keep health and safety top of mind by asking customers to bank from home when possible, providing them with many different options when it comes to digital banking. Features such as electronic signing allow customers to connect with TD representatives from the comfort of their homes
Additional Info
The new branch features an open concept design that helps TD serve customers better by moving financial specialists out from behind desks directly to the customers.
The new branch is wheelchair accessible.
Free Wi-Fi service is available.
Four full-service Green Machine ATMs are available 24 hours a day, 7 days a week.
Branch hours are 9:00 am to 6:00 pm, Monday through Wednesday; 9:00 am to 8:00 pm  on Thursday and Friday, and 10:00 am to 4:00 pm on Saturday.
The Cornwall branch can be reached by phone at 613-932-0204
About TD Bank Group
The Toronto-Dominion Bank and its subsidiaries are collectively known as TD Bank Group ("TD" or the "Bank"). TD is the fifth largest bank in North America by assets and serves over 26 million customers in three key businesses operating in a number of locations in financial centres around the globe. TD also ranks among the world's leading online financial services firms, with more than 14 million active online and mobile customers. TD had CDN$1.7 trillion in assets on January 31, 2021. The Toronto-Dominion Bank trades under the symbol "TD" on the Toronto and New York Stock Exchanges