Team Canada East to Hold Selection Camp at Benson Centre
August 1, 2019
Cornwall Ontario – Team Canada East hopefuls will gather at the Benson Centre in Cornwall for three days of games and practices as part of the evaluation process in advance of the 2019 World Junior A Challenge in Dawson Creek, B.C.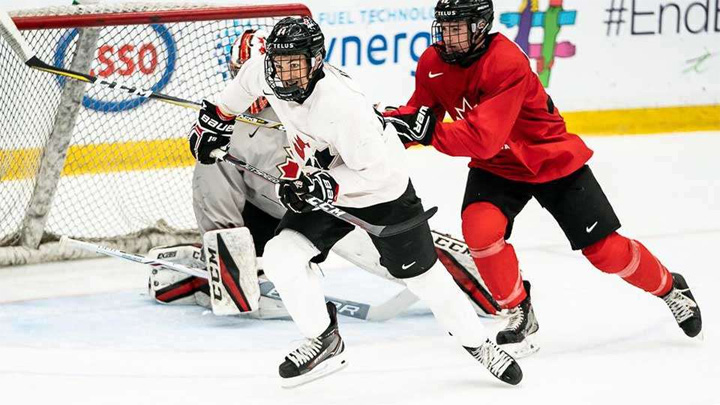 44 players have earned an invite to the Selection Camp after being identified by the Canadian Junior Hockey League (CJHL) and NHL Central Scouting. The Selection Camp will take place August 7, 8 9.
"This marks the first year Team Canada East will host a summer selection camp, which will help the team staff evaluate and select its roster earlier than previous years and continue to evaluate the players throughout the season," said Brent Ladds, president of the CJHL. "We are excited to start the evaluation process for Team Canada East next week, and we look forward to watching both Canadian teams compete for a gold medal at the World Junior A Challenge in December."
The players were selected from the CJHL's five eastern Junior A leagues: the Northern Ontario Junior Hockey League (NOJHL), Ontario Junior Hockey League (OJHL), Central Canada Hockey League (CCHL), Ligue de hockey junior AAA du Québec (LHJAAAQ) and Maritime Hockey League (MHL). Team Canada East staff, led by head coach Martin Dagenais (Embrun, Ont./Ottawa, CCHL) and director of operations Mark Grady (Orleans, Ont.), will use the camp to evaluate the prospects before selecting the final roster for the 2019 World Junior A Challenge.
The 44 players along with coaches and officials will stay at local hotels and then take to the ice daily at Cornwall's premiere multi-sport facility. The practices and mini-games are open to the public.
"We are happy to accommodate Hockey Canada and excited to see some of Canada's best up and coming athletes compete," says Jamie Fawthrop, Division Manager, Recreation with the City of Cornwall. "The Selection Camp is one of a number of upcoming sporting events in Cornwall over the next few months."
The five-team World Junior A Challenge includes two Canadian teams (Team Canada East and Team Canada West) along with the United States, Russia and the Czech Republic. Team Canada East has won silver four times at the annual tournament, most recently in 2016.
For more information on the 2019 World Junior A Challenge, please visit HockeyCanada.ca
About the Benson Centre
The Benson Centre is one of Cornwall's newest recreation facilities, offering three NHL-sized rinks, an indoor field house and an indoor court for tennis, pickleball and badminton along with numerous multi-purpose rooms. The venue plays host to dozens of major events throughout the year catering to both residents and visitors.
The Benson Centre is located at 800 Seventh Street West, just west of the traffic circle at Brookdale Avenue.
For more information on the Benson Centre, click on the following link: