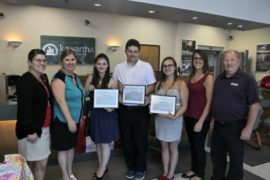 Team Cornwall Youth Volunteer Bursaries Handed Out
July 4, 2016
Cornwall, Ontario – Several graduating high school students will find the next step in their education a little easier thanks to Kawartha Credit Union and Team Cornwall. Three high school students were each awarded $1,500 in recognition of their volunteer achievements, initiative and care for their community.
"The applications we received this year were very impressive," said Peter Gault, Chair of Team Cornwall. "It was a difficult decision to make, but we feel that these three students are exceptional young leaders and we are hopeful that they will continue to support and promote Cornwall as they continue their education."
Fully funded by Kawartha Credit Union, the Youth Volunteer Bursary was developed to encourage leadership, community involvement and cooperation within students. The program honours extraordinary Cornwall students whose volunteer achievements have contributed to the well-being of their community.
A gathering was held at the Kawartha Credit Union on Thursday, June 30th to recognize the winners of the Team Cornwall Youth Volunteer Bursary. This year's award winners were:
Bryce Rusnak: a graduate of St. Joseph's Catholic Secondary School, Mr. Rusnak will be attending Algonquin College next year to pursue a Computer Engineering Technology diploma.
Taya Orchard: a graduate of St. Lawrence Secondary School, Ms. Orchard will attending St. Lawrence College in Business Administration.
Cynthia Lovejoy: a graduate of St. Matthew Catholic Secondary School, Ms. Lovejoy will be attending Algonquin College for Chef Training, and then continue her education in Culinary Management. Ms. Lovejoy would like to return to Cornwall to open up her very own restaurant.
"We want these students to know that they have the support from us and from Cornwall," said Joanne Montford, Branch Manager of Kawartha Credit Union. "We recognize what they've done for the community, and we want to help them take their next steps."
About Team Cornwall Bursaries
Team Cornwall has established bursaries to acknowledge the important role youth play in shaping the future of the community. These bursaries include the Team Cornwall Youth Volunteer Bursary, the Team Cornwall High School Bursary, and the Team Cornwall Community Award. Each bursary has its own criteria and selection process. More information about Team Cornwall's bursaries can be found at the following website:
About Team Cornwall
Team Cornwall consists of over 400 business and professional people who work to promote Cornwall to their business contacts around the world. Working closely with Cornwall Economic Development, the Chamber of Commerce and other local organizations, Team Cornwall members help spread the word about the considerable advantages of living and doing business in Cornwall.
About Kawartha Credit Union
Kawartha is a co-operative financial institution that gives back a portion of its profits through its Community Involvement Program. With 25 branches in Ontario, supporting the well-being of the communities they serve is one of Kawartha's guiding principles. For more information about Kawartha Credit Union, please visit the following website:
Categorised in: News