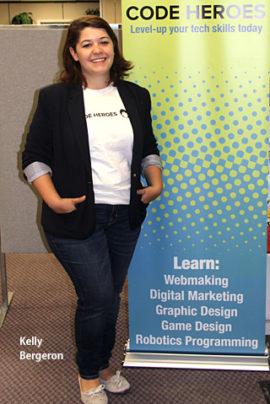 Technology Made Fun by Code Heroes
July 13, 2016
Cornwall, Ontario – Code Heroes has launched Cornwall's first-ever "Learn to Code" program, helping neophytes and tech-savvy kids alike learn more about opportunities created by technology.
Code Heroes is a non-profit organization dedicated to bringing technology and innovation classes to the Cornwall community and surrounding areas. Its founder, Kelly Bergeron, wants to ensure that Cornwall does not fall behind major cities in Canada in this field.
"There seems to be a huge need to teach kids and adults how to code and how to best use the tools available to them," said Bergeron.
Code Heroes launched the "Learn to Code" program with the hopes of ensuring that every child in the community has the opportunity to learn about technology and innovation. This pilot program will be run during the month of July, and will offer people of any age and skill level the opportunity to learn about digital literacy, coding, graphic design, game design and digital marketing.
A former resident of Cornwall, Bergeron studied Computer Programming and Analysis at St. Lawrence College. Since graduating Bergeron has worked for the RCMP, the Department of National Defense and the innovative technology company Salesforce in San Francisco.
Having returned to Cornwall, Bergeron brings with her 15 years of experience in website development, design, digital marketing and social media community-building and strategies.
In October 2015, Bergeron hosted a Ladies Learning Code series St. Lawrence College's computer lab in Cornwall, helping to teach kids valuable technical skills and how to make websites from scratch.
"People were surprised at the program we were offering and wanted more education on coding and what it can be used for," said Bergeron.
The "Learn to Code" pilot program started its first class on Saturday, July 2nd. According to Bergeron, the demand for these courses has been very high and some classes are full. If the pilot program is successful, Bergeron is hopeful that this can become something more permanent.
The classes are being held at the Academy of Learning at 225 Pitt Street. For the first week of July, classes are pay-what-you-can, and then for the rest of the month the prices range from $10 to $20. Classes typically run Monday to Friday from 6:30 pm to 8:30 pm and Saturdays from 10:00 am until 2:00 pm.
Upcoming classes include:
3D Printmaking Workshop
Intro to HTML for Kids
Intro to HTML
Intro to CSS
Digital Marketing on a Budget
The Basics of Building a WordPress Website
Learn Game Design With Scratch
Let's Build a Website
Registration can be done online at www.CodeHeroes.ca.
Code Heroes
For more information about Code Heroes, visit them online at:
Categorised in: News