Temporary Road Closure in the Cornwall Business Park
August 18, 2020
Cornwall Ontario – Virginia Drive in the Cornwall  Business Park will be closed to traffic on August 22.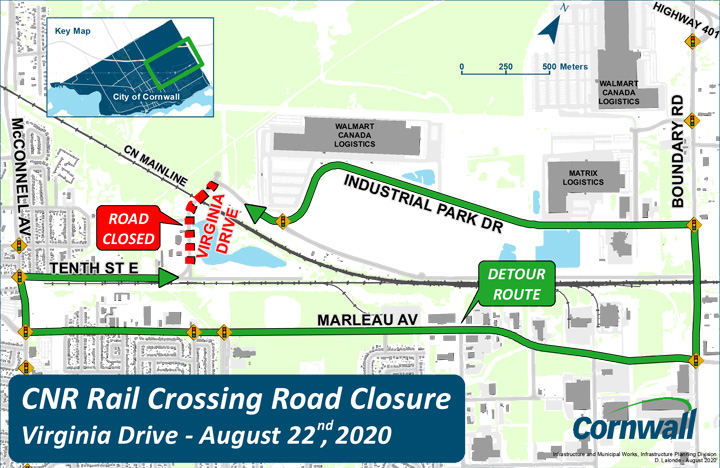 The road will be closed at the CN Railway crossing from 7am to 3pm so that CN can complete maintenance on the rail crossing.
Virginia Drive is a short road that connects Industrial Park Drive to Tenth Street East, providing an alternative East-West transportation corridor in the Cornwall Business Park. The CN Rail mainline is the main rail route connecting Montreal to Toronto, servicing both freight and VIA Rail passenger trains.
Road Closure Details 
Affected Road: Virginia Drive from Industrial Park Drive to Tenth Street East
Start time: 7 am on Saturday, August 22nd
End time: 3 pm on Saturday, August 22nd
The businesses in the Cornwall Business Park will continue to have access to Highway 401 from Boundary Road. Access to McConnell Avenue and other points west can be accommodated via Marleau Avenue.
The Cornwall Business Park is home to major distribution centres, manufacturing companies and trucking firms.
Discover Construction Projects on Cornwall.ca
Detailed information on Cornwall municipal works projects is now available at www.Cornwall.ca/construction, where all 2020 major projects are listed, including the reconstruction of several roads, the relining of several watermains, and the construction of several sidewalks.
Each project page features contact information for the responsible project supervisor, as well as notices and information on how construction will affect nearby homeowners and business owners.
An interactive map of all projects is also available by clicking here.
The City of Cornwall thanks all motorists for their cooperation. If you require any additional information, call 613-932-5354.