Test Your Knowledge with the Cornwall Coaster Quiz
November 19, 2021
Cornwall Ontario – How good is your general knowledge? You can now find the answer with the Cornwall Coaster Quiz, a new way to pass the time and add an element of fun at local restaurants and bars.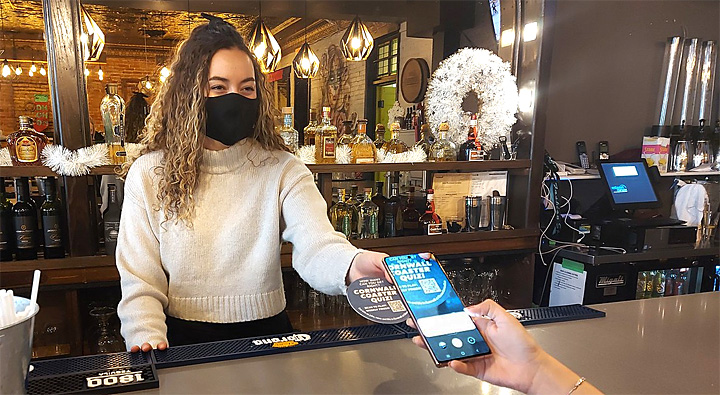 People playing the Quiz are asked to answer 10 questions drawn from a bank of over 300 questions that touch on popular culture, science, music, geography, Canadian and Cornwall trivia.  The game is called the Cornwall Coaster Quiz because the easiest way to play is to use your smartphone to scan a QR code on a special coasters found at participating restaurants and bars.  There is no cost to play, and you can play as often as you like.
"Cornwall has some really great and interesting history and the Coaster Quiz is a fun way to share that history with residents and visitors," says Bob Peters, Division Manger of Economic Development. "We are happy to be able to add an additional element of fun to our local dining experiences."
Play and Win!
Names will be randomly drawn from participants who have completed the quiz,  and winners will be contacted via email. Prizes include Cornwall swag and locally made products. The more you play the better your chances at winning!
The Coaster Quiz will be available until the end of 2021, providing six weeks of trivia.
Participating Locations
Visit one of the participating locations and see how you fair against the Cornwall Coaster Quiz!
Esca Gourmet Pizza and Bar
Truffles Burger Bar
Schnitzels
Birchwood
Daffodil Pub
Shoeless Joe's
Boston Pizza
East Side Mario's
Kelseys
Stomping Grounds
Lola's Pub
St. Huberts
Bill's Sports Bar
Rendez Vous Bar
Au Vieux Duluth
Hops & Barley Restaurant
Winners Sports Bar
Royal Canadian Legion Branch 297
Mexi's Cornwall
Bonus Question
There is a question for everybody in the quiz. As a reward for reading this story until the end, here is a bonus:
Are zebras black with white stripes, or white with black stripes?
Play From Home
If you can't make it out to a local restaurant (but you really should try), you can also play the quiz from home via this link:
Share the link with your family and friends!
(A: Zebras are black with white stripes)