The Local Fill Says Goodbye To Plastic
August 1, 2019
Cornwall Ontario – Say goodbye to plastic bags and embrace a more sustainable way of packaging.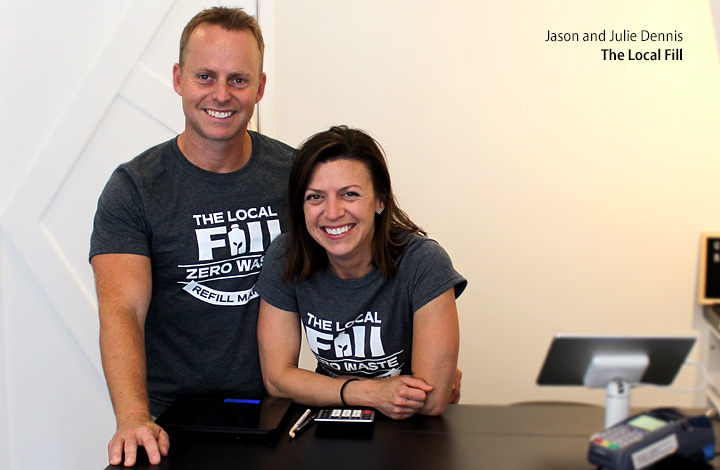 That's the message of The Local Fill, a new business in Cornwall offering staple household products such as laundry detergent, shampoo and household cleaners without the usual plastic packaging.
"Cornwall is ready for a zero-waste household store," says Julie Dennis who owns the store with her husband Jason. "We noticed how many consumers were looking for ways to reduce their environmental footprint and now they have an option right here in town."
The Local Fill has a large selection of general household supplies like reusable lunch boxes, produce bags, beeswax wraps, scrubbers, straws, as well as bulk refill items like laundry detergent, shampoo, conditioner, body and hand soap, and plastic-free dishwasher tabs.
"Using our container refill program is easy," explains Mrs. Dennis. "Just bring a clean bottle, jar, or container into the shop and we will help you refill it. Since you only pay for the product, you can buy as little or as much as you want. If you don't have a container to use, we also have some reusable ones for sale or borrow."
The Local Fill is not only helping Cornwall families get the products they want, but they are also helping solve a problem that is national in scope.
Less than 10 percent of all plastic used in Canada is recycled and it is estimated that 3 million tonnes of plastic ends up incinerated, sent to landfill, or discarded every year. The Government of Canada intends to ban single-use plastics like bags, straws, and containers by 2021, while also supporting businesses to make the shift towards more sustainable and reusable packaging.
"Helping to educate our customers on how and why they should make some of these changes is a huge part of this business," says Mrs. Dennis. "It can be overwhelming at first, but there are many simple changes people can make and we are here to help."
The Local Fill is located at 1515 Pitt Street and is open Tuesday to Friday 9-6, Saturday 10-3 and closed Sunday and Monday.
You can connect with the Local Fill online at:
Categorised in: Business, Environment, General, News