The Modern Dinosaur Opens in Le Village
October 4, 2019
Cornwall Ontario – There is a new store in Le Village that is promising an adventure that has been millions of years in the making.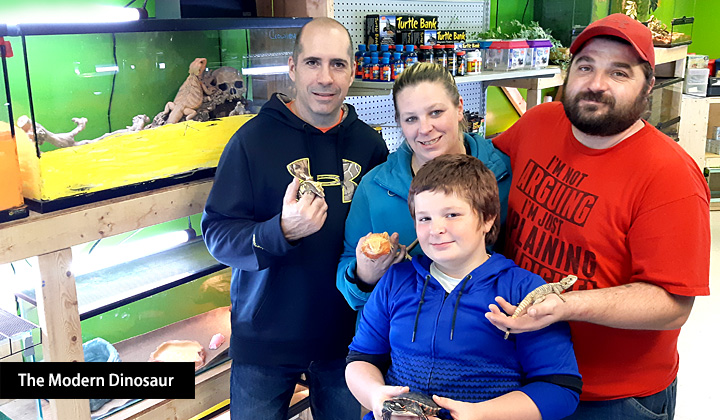 The Modern Dinosaur specializes in animals that have an exotic and global history of sharing life with humans, including reptiles such as lizards and snakes, along with arachnids and fish. These include lizards such as geckos, iguanas and Bearded Dragons, which can grow up to 24 inches in length, and animals more familiar to Canadians such as snakes and Painted Turtles.
The business is owned by Jordan and Amanda Coleman and Denis Champagne.
"We grew up with lizards as pets and it has become a passion for us," says Mr. Coleman. "We knew Denis had the same interests and the idea of sharing our expertise with others made a lot of sense."
The Modern Dragon occupies 1,000 sq.ft. and the entrepreneurs have filled that space with a wide variety of animals, along with terrariums, supplies and food products.
"Keeping a lizard can be as rewarding and therapeutic as any other pet," says Mr. Champagne. "Until now people have had to travel to Montreal or Ottawa to get the supplies they need – we're here to provide a local alternative."
The trio also have a wealth of experience that they can offer their customers, and have already been approached to showcase their animals at community events.
"Our goal is to provide personalized service so that people can enjoy their animals in a safe and healthy way," says Amanda Coleman. "These are fascinating creatures that are very interesting to observe, and we are looking forward to showcasing them to the community."
The Modern Dinosaur is located in Le Village at 319 Montreal Road. The store is open Monday through Thursday from 9am to 6pm, Friday from 9am to 7pm and Saturday from 11 to 6pm. The store can be reached at 343-370-DINO or online: