The Pitt Brings Classic Comfort Food to Downtown Cornwall
April 17, 2020
Cornwall Ontario – In a time of uncertainty, a new restaurant in Downtown Cornwall is delivering comfort to food lovers one meal at a time.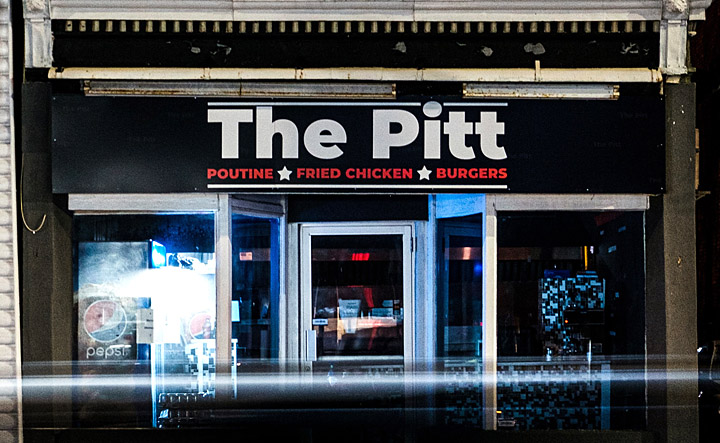 After much planning and preparation, The Pitt recently opened its doors at 309 Pitt Street with a menu catering to those in search of a fast and filling meal. The restaurant offers a variety of appetizers, salads, burgers and fried chicken, but the marquee menu item is one of the most classic Canadian dishes of all – poutine.
There are eight different poutines on offer – Classic, Veggie, Hotdoggy and Flaming Pitt to name a few – and poutine lovers can expect even more to come.
"Poutine is our thing, and it's one of those things that's going to be constantly evolving," said Johnny Hassan, a co-owner of the new restaurant along with his brothers Mac, Haider and Moe. "We will be adding and removing some based on what people want."
The restaurant began serving on Friday, April 10th, and it was certainly a welcome sight for the Hassan brothers. Launching a new business is a challenge at any time, but even more so in the midst of a pandemic. The current COVID-19 crisis nearly paralyzed the new venture before it even got off the ground.
"We almost didn't make it but we made a heavy push at the end and got it open," Johnny recalls. "We were working on the inside and all of this stuff starts happening. We actually took some extra time and got our stuff in order."
The perseverance paid off, but it's an entirely different reality than what the restaurant envisioned. Like other restaurants, The Pitt is open for contact-free take out and delivery only for the time being. Orders can be placed online through their website (www.thepittpoutine.ca). The Hassan's have set up a disinfecting unit at the restaurant's entrance and extra precautions are taken with every meal that's prepared and sent out.
"Times have really changed," Johnny said.
The restaurant owner believes the added convenience of take out and curbside pick-up might make it a new norm for the service industry even after the public restrictions for COVID-19 are lifted. As a result, The Pitt is adapting the business both for the present and the future.
The Hassan brothers are originally from Ottawa and they have a family connection in Cornwall. When the space in Downtown Cornwall presented itself, they decided to get together and pursue the venture. Mac has made the move to Cornwall and handles the day-to-day operations of the business while Johnny is handling the marketing and promotions.
The brothers are big believers in community, and they decided to give back right away by delivering meals to employees at the Cornwall Community Hospital on their opening day.
"Cornwall has really come together and been really welcoming to us," Johnny added.
That belief in community also extends to supporting local wherever possible. Johnny said they are trying to source products locally as much as possible. As an example, they recently found a local supplier for their buns.
"We're huge supporters of buying local and refeeding (money) back into the community," he added. "Anything locally that we can support, we do it."
The Pitt is open Monday to Saturday from 11 am to 9 pm.
Additional Information