The Spicy Pearl Lands on Pitt Street
October 22, 2021
Cornwall Ontario – The Spicy Pearl has moved just around the corner, but with this small move comes some big changes.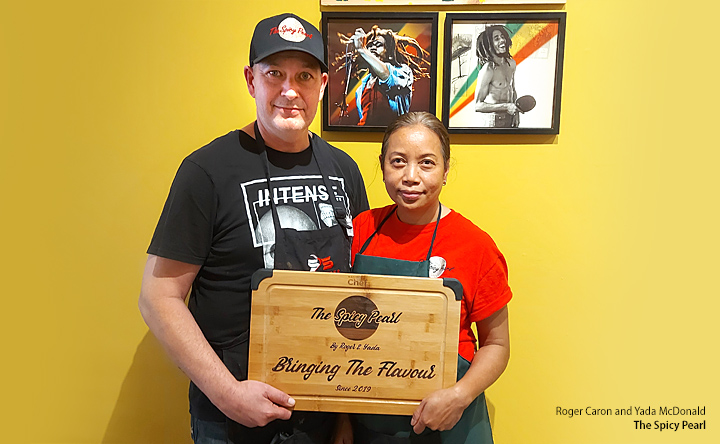 The popular restaurant is now located at 105 Pitt Street in the heart of downtown Cornwall and the larger brightly lit space is inspiring owners Roger Caron and Yada McDonald to expand their menu.
The Spicy Pearl first opened its doors on First Street in February 2020. The restaurant quickly gained a loyal following by offering consistently delicious dishes focused around their passion of both Jamaican and Thai flavours.  The opportunity to relocate came when landlord Rothmar Holdings decided to turn their original space into residential units. Luckily vacant retail space (which had formerly been a restaurant) was available around the corner.
"It's only been a few days and we have already noticed the increased foot traffic in the new location," Mr. Caron happily exclaims. "Our new space is bigger, better and I know we will be very happy here until we retire."
Caron and McDonald have big plans for the new location. They have already invested over $30,000 in a brand-new kitchen and have worked hard to create a bright and open dine-in space. The husband-and-wife team are also expanding the menu and the operating hours.  The new menu will be available in a couple of weeks and will include fan favorites as well as some new Thai-Jamaican fusion dishes and more west Indian dishes. Eventually, the plan is to become licensed and offer the choice of alcoholic beverages.
"What most people don't realize is that we offer some of the most expensive meats in town," shares Caron "All of our proteins are halal, supplied by a local trusted Muslim. Items like ox tail and goat come at a premium price."
Although using high quality, whole ingredients the team does it's best to keep menu prices as reasonable as possible and have made a reputation for themselves for offering great value with large portions. Customers have also come to love the responsiveness and respectful nature of classically trained Chef Caron, adapting his dishes to meet customers' needs whether it be dietary restrictions or heat sensitivities.
"We want to appeal as many people as possible so we make everything fresh and customizable to meet the needs of our customers," Caron explains. "I am always happy to hear our patrons' feedback, and that is one of the reasons we offer more of a north east Thai flavour, giving the customers something they can't get anywhere else in town."
The Spicy Pearl is located at 105 Pitt Street and is open Tuesday – Saturday from 11:00 am – 7:00 pm for dine in and take-out. They can be reached by phone at 613-932-6486 or online at: