Three Become One-Stop Shop for Business and Branding
May 10, 2019
Cornwall, Ontario – Three local businesses are teaming up to create a one-stop shop for business and branding strategies in a 2400 sq. ft. location in the Cornwall Business Park.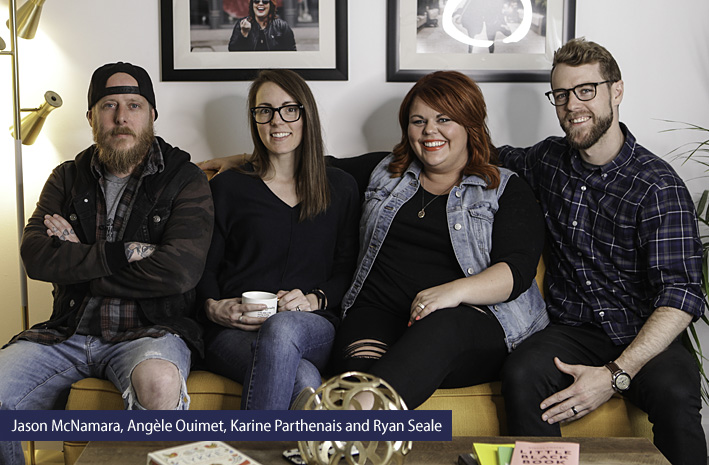 Karine Parthenais from Connexionista, Angèle Ouimet and Ryan Seale from Seale Strategies and Jason McNamara from Framed Photography have set up a collaborative work space at 2855 Marleau Avenue next to Multi-Doors and Windows. The move comes after seeing much success working in collaboration to help small business owners build strategies to grow and develop a better online presence.
"We are stronger together. We know where we excel and how each of us can add value to our clients. We couldn't imagine doing projects any other way" says Angèle Ouimet from the Seale Strategies team.
Seale Strategies is the partnered web agency in the new collaborative space offering web design, web development, GSuite setup and email management. Their signature product is building websites in a day and including the client in the process, so they get exactly what they want.
"This works because there's no back and forth for weeks trying to get the right look, feel and content loaded to the site," says Ryan Seale. "We have a system in place that makes the entire process feel easy."
Jason McNamara is no stranger to the world of commercial photography and always brings the creative process to another level. The new space will allow for  Framed Photography to offer product photography, professional headshots and other photography projects.
"Working with this team allows me to be more involved in the process – I shoot the subject knowing how the photos and videos will be used online," says Mr. McNamara. "It's a much more integrated and collaborative approach which helps me deliver even more for my clients."
Karine Parthenais will continue to offer business and branding strategy consultations through her firm Connexistia, looping in the creative team to bring her clients' visions to life.
"My focus is to make sure my clients pick a lane, get specific about their messaging and then tie it all together online and off,"  says Ms. Parthenais. "There are so many elements that need to be looked at when we're building a business. I like to make  my clients feel like I'm an extension of their team and that I've always got their back."
The three businesses will host a launch event this summer, welcoming local businesses and organizations to scope out their concept. In the meantime, you can drop by the new space or connect with The Co.Lab online:
You reach each individual company through the following link: