Throttle Powersports Rolls Into Cornwall
April 8, 2022
Cornwall Ontario – Demand is growing for four-wheeled outdoor adventure experiences, and a new Cornwall business is ready to meet the needs of local enthusiasts.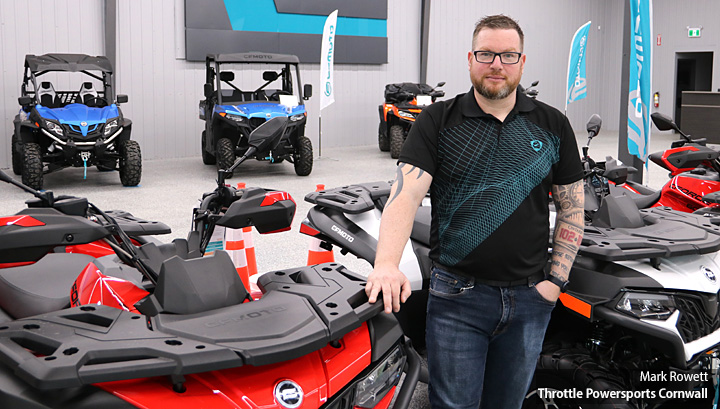 Throttle Powersports recently opened its new showroom on Ninth Street West (across from the SmartCentres) featuring a full range of power sports vehicles from CFMOTO, the fastest growing ATV and side-by-side brand in Canada.
"We're selling more (units) than we're building (at the moment)," said Mark Rowett, General Manager of Throttle Powersports Cornwall.
CFMOTO is a world-wide leader in manufacturing innovative power sport vehicles. The company has a 200 strong R&D team across five countries and the company holds over 110 registered patents and independent intellectual rights.
Mr. Rowett says the CFMOTO brand is proving to be quite popular given their affordability, extensive features like alloy wheels and LED lights and extended five-year warranty. In addition to the wide range of ATVs and side-by-side units, Throttle Powersports also sells accessories, equipment and open and closed trailers. CFMOTO motorcycles and Bentley pontoons are expected to be added to the showroom floor in the future.
The Cornwall establishment is the third location for Throttle Powersports, joining sister locations in Almonte and Kingston. Rowett said the response has been phenomenal since the location's opening.
"Cornwall is a great location for our company and the location on Ninth Street offers great visibility. We are thrilled with the inventory and selection we have brought to the market," he added.
ATVs are not permitted to be used on City parks and trails. There are over 200km of trails in the United Counties of SDG, including the Peanut Line which runs from Boundary Road east through South Glengarry.
Mr. Rowett said they plan to have a full parts and service department opening within the Cornwall location in the future to complement the sales floor. In the meantime, buyers receive free transportation to Kingston for servicing and support of their vehicles. At present, the store has 5 full-time employees and that figure will grow to 10 once the service department opens and the location is fully functional.
Additional Info
Throttle Powersports is located at at 405 Ninth Street West and is open from 8 am to 6 pm Monday to Friday and 9 am to 3 pm on Saturday. For additional information, visit the company online: