Tickets Now on Sale for World Junior A Challenge
August 26, 2021
Cornwall Ontario  – The 2021 World Junior A Challenge is coming to Cornwall this December and tickets are now on sale!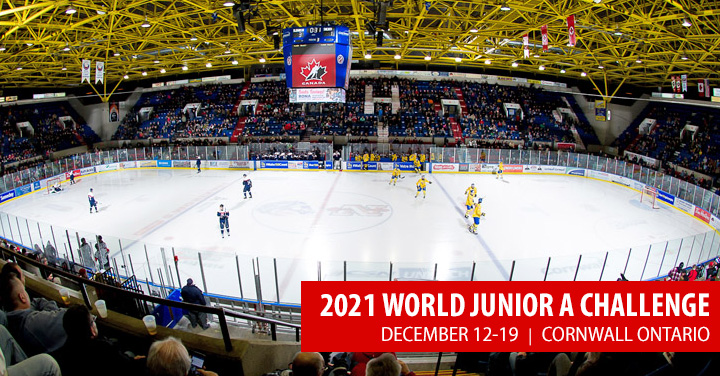 The World Junior A Challenge features some of the best Junior A level hockey players in the world. Hosted in partnership with Hockey Canada, the Canadian Junior Hockey League (CJHL) and Hockey Eastern Ontario (HEO), the 2021 WJAC will see five teams battling it out for gold – Canada East, Canada West, USA, Russia and the Czech Republic.
The tournament takes place December 12 – December 19, 2021 at the Ed Lumley Arena in the Civic Complex on the banks of the St. Lawrence River.
Cornwall was originally selected to host the 2020 WJAC however the pandemic forced Hockey Canada to cancel events. The tournament in Cornwall was pushed back to 2021 and the extra time has only served to generate more anticipation for the event. It will be just the second time that an Ontario community hosts the tournament.
The tournament has quickly become a highlight for NHL scouts – and for good reason. The WJAC alone has produced more than 230 NHL draft picks, including 36 first-rounders – think names like Jost, Lindholm, Pastrnak, Schwartz, Tarasenko, Turris, Vasilevski and Yakupov.
Ticket Information
The Early Bird package is now available for purchase at the all-in price of $149.50 which includes 1 game ticket to each of the 14 tournament games. Fans can pay just $49.50 upon sign up and the remainder before 7 am on October 13th to be entered into a draw to win one additional full event pass.
"For hockey fans, this is a tremendous value," said Lorne Taillon, Supervisor, Recreation & Programming with the City of Cornwall. "You'll get to watch some world-class hockey and get access to every game of the tournament for one great price."
The early bird price will be available until October 12th.
Additional ticket packages and single game tickets will go on sale at a later date.
More Info
For more information on the 2021 World Junior A Challenge, make sure to check out the Facebook Event page.
For information on sponsorship opportunities, please contact Lorne Taillon at 613-938-9898 ext. 2.