Tilly's brings European flavour to Downtown Cornwall
October 11, 2019
Cornwall Ontario – Downtown Cornwall's diverse restaurant scene features some amazing tastes from around the world. The impressive culinary offering now includes some extra European flavour with the arrival of Tilly's Eatery & Delicatessen.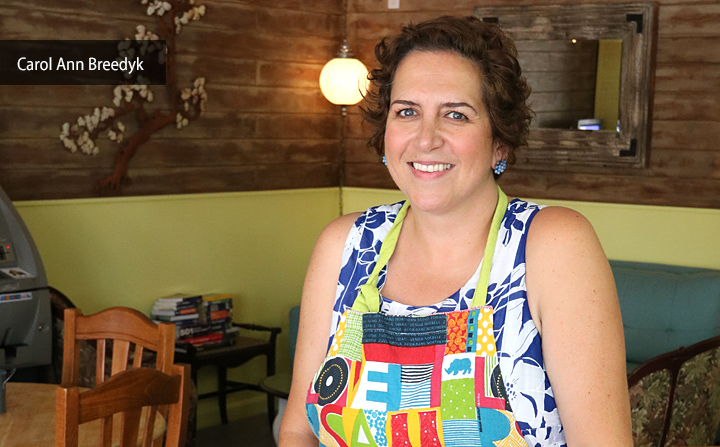 Located at the corner of Pitt and First Streets, Tilly's offers foodies some quality home-cooked breakfast and lunch options in a cozy, nostalgic setting.
The beautiful restaurant is the brainchild of owner and chef Carol Ann Breedyk, who turned to her family's European roots for inspiration for the new venture – from the name right down to the menu.
It's named after her mother-in-law Tilly – short for Mathilde – who immigrated to Canada from Germany after the war with her three children in hopes of offering her children a better future. She, together with Mrs. Breedyk's own Oma from Holland, Marie, provided the flavour that now fuels the restaurant's unique menu.
From homemade sausages and deli sandwiches to potato pancakes and quiche, Tilly's menu is ever-changing – and it's been a huge hit. Oma's meatloaf, for example, was one of the recent daily hot specials, and it sold out.
"I think all food should have that concept of homemade food otherwise you're losing touch and creativity," Mrs. Breedyk said. "I don't want anyone to leave here hungry."
There's also tasty pastries and desserts and great coffee from Brown Bag Coffee Roasters, a Gatineau-based roaster. The homey foods and comfortable surroundings are catching on quick, with a growing number of people making it their spot to grab a quick bite and swap stories. The counter running parallel to the kitchen has proven to be quite popular.
"I feel like I've become the lunchtime Cheers without the beer," Mrs. Breedyk jokes.
The eatery is decorated with some of Mrs. Breedyk's own works, with vintage furniture and string lights adding to the ambiance.
"I wanted it to feel nostalgic and cozy," she said.
For Mrs. Breedyk, the restaurant represents the achievement of a long-time goal. After a long career in health care, she returned to school to obtain her culinary skills diploma from Algonquin College. The Ottawa native moved to Cornwall – "I love it here," she adds – and after working in another Downtown food establishment for some time, she decided the time was right to pursue her own venture. The early returns have been quite promising.
"I'm really surprised at how it has taken off," she notes of her first month in operation. "It's doing much better than I predicted."
Mrs. Breedyk is thrilled to be located in Downtown Cornwall next to a number of existing restaurants. She is one of several new food and retail establishments opening in the coming months.
"I love the vibe and I was always drawn to the socialness (of Downtown areas)," she adds. "This corner is coming alive."
In addition to caring about her community, Mrs. Breedyk also cares about the environment. To that end, the restaurant uses wooden cutlery and compostable or recyclable items wherever possible.
"The world is in crisis and we need to step up," she said.
As for the future, Mrs. Breedyk already has plans for new offerings, including a line of buy-and-go products like cheeses and ready-made meals for those who would like to take the unique Tilly's flavour home with them.
Tilly's is open Monday to Friday from 8 am to 3 pm and Saturday from 10 am to 3 pm. Tilly's is also open for special events and catering.
You can find out more online: