Tokyo Smoke Opens Cornwall Cannabis Store
April 14, 2022
Cornwall Ontario — Tokyo Smoke has opened a brick-and-mortar retail cannabis store in Cornwall.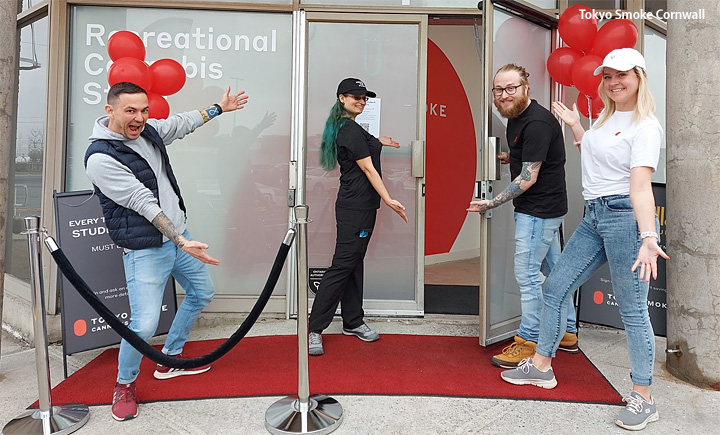 The new store is located in the former bank building at the retail plaza at Ninth and Sydney, home to Baxtrom's YIG, Staples, TD Bank and  other retailers. The 1300 square foot store has been designed with a bright esthetic to provide Tokyo Smoke's best-in-class guest experience while adhering to health and safety measures. Customers can call ahead to book 30 minutes of no-pressure, personalized shopping guidance. Customers can also shop online and pick up in-store.
"Ontario is the largest market in the country for legal recreational cannabis and it's where the Tokyo Smoke brand was built – we're excited to bring our education-first approach to cannabis retail to key communities and regions across the province," said Lacey Norton, Head of Retail for Tokyo Smoke.
The Tokyo Smoke store is the 9th cannabis stores to open in the immediate Cornwall area.
"The company has used the down time from COVID to provide even more learning to all the educators so we can truly help our clients find what they are looking for," says store manager Justin Courville. "I am hoping we will be able to bring back our in-person Learn and Burn sessions to further educate our clients and build relationships with our partners."
The number of cannabis stores in Ontario has soared to over 1,115 in recent months, making it one of the fastest growing retail sectors in the province.  When recreational cannabis was legalized in 2018, the legal market was responsible for only 5.4 per cent of pot purchases in Ontario, but that number is now estimated to be over 54.2 per cent.
About Tokyo Smoke
Tokyo Smoke was founded in Toronto in 2015 by Alan and Lorne Gertner.  The store quickly became a community hub where frank and open conversations about cannabis were possible. With recreational cannabis use now legal in Canada, what started as a tiny Tokyo Smoke storefront now stands to change cannabis culture in a big way. Tokyo Smoke is now part of the Canopy Growth Corporation. Tokyo Smoke's growing retail footprint includes 82 stores in Canada.
The Cornwall store is located at 61 Ninth St, Cornwall and is open Sunday – Thursdays from 10am – 10pm and Fridays and Saturdays 10am – 11pm.