Total Cyclery Moves Closer to the Riverside Trail
July 7, 2023
Cornwall Ontario – One of the region's preeminent cycling shops has changed locations, and this new shop is just a short pedal away from the Riverside Trail.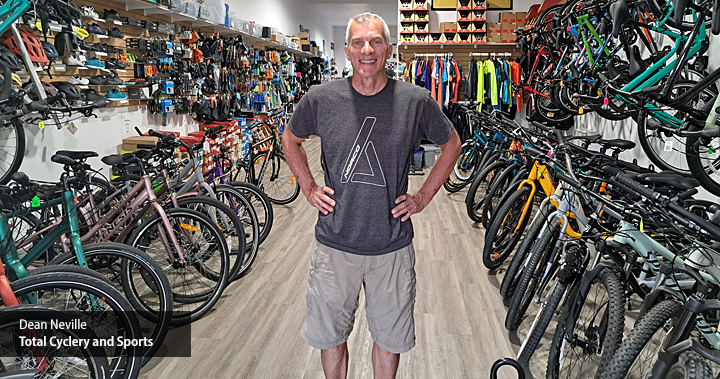 The new location is at the corner of Pitt and First streets, just a block north of Lamoureux Park. The bike shop is owned by Dean Neville, who has built up a loyal following amongst local cyclists by offering knowledgeable sales and service.
"We are coming off three fantastic years where cycling has really exploded in popularity," says Mr. Neville. "Depending on what type of cycling you want to do, there is a bike for everyone."
The new store is currently full of stock with all types of bikes, including mountain, gravel, road and hybrid bikes, and featuring top brands such as Specialized and Norco. The shop also has a selection of BMX bikes for those looking to take advantage of the Cornwall BMX track. One of the more popular trends is the move to electric bikes, and in that segment of the market it seems like technology is everchanging.
"Electric bikes are ideal for casual cyclists, and they have really helped keep people active," notes Mr. Neville. "The new bikes are lighter and offer great range."
An experience at Total Cyclery & Sports is a personal one. Customers are provided with proper education so that they can choose the right bike, apparel and accessories they need. Of equal importance is regular bike maintenance, and Total Cyclery's professional bike mechanics are ready to help with tune-ups and upgrades. For those looking to do their own maintenance the shop carries a complete lineup of Park Tools.
A member of the Cornwall Cycling Club, Mr. Neville is very active in the cycling community and has competed in international events.
"Cornwall is truly a hub for cyclists with many people coming to fat bike, mountain bike and road ride in the area," says Mr. Neville. "The Riverside Trail is a safe, scenic way for so many locals and visitors. We are lucky to have it."
You can check out the new Total Cyclery and Sports at 100 Pitt Street, call the shop at (613) 938-8585 or visit them online at:
It's time to … get rolling!
Whether you're looking for a fun family ride or a challenging off-road adventure, Cornwall is a great destination for your next cycling outing.
Cornwall's Riverside Trail is one of the best parts of the world famous Waterfront Trail. Enjoy dedicated paved trails right along the St. Lawrence River with easy access to restaurants, shops, attractions and more! Free public parking is available for cyclists taking advantage of the Riverside Trail in the Complex parking lot overlooking the marina.
Check out the Cornwall Tourism Cycling Page for all you need to plan your next cycling adventure, including maps, parking options, itineraries and more.
Categorised in: Business, Community, Environment, General, News, Sports