Tourism Development Fund Provides Significant Support
April 11, 2022
Cornwall Ontario – A number of tourism projects received a helping hand in 2021, thanks to funding from the The Tourism Development Corporation of Cornwall (TDCC) .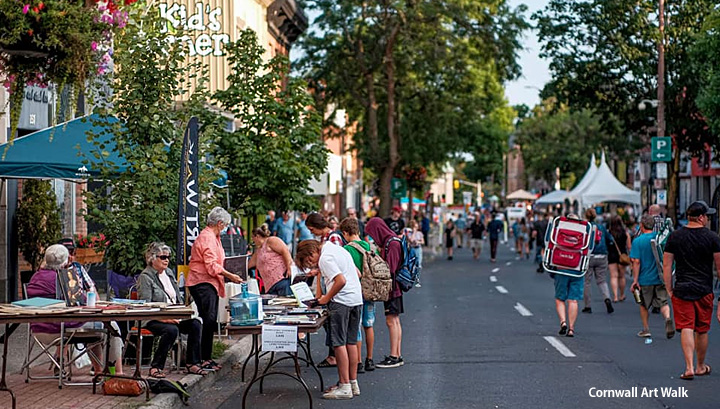 A total of $104,221 was invested in the community from the Tourism Development Fund, allowing businesses and event organizers to increase marketing outside the City as well as improve the overall tourist experience. The net result is increased tourism activity leading to greater positive impact on the local economy, with the potential of generating more repeat visitors.
"We are very pleased with the success of the Tourism Development Fund through what could have been a very difficult year for tourism. We are encouraged by the excellent quality of applications and new initiatives being brought forward." says Etienne Saint-Aubin, Chair of the TDCC. "There are no limits to what we can do as a community when we seize the opportunity to put forward our best work together. This program which creates jobs, showcases our community, and contributes to our shared sense of pride, exists because the Council of the day acted to help play a greater role in the crucial field of tourism. "
2021 Funding Recipients
The TDCC received 15 requests for funding in 2021 and was able to fund 12 of those applications. The awarded funds were allocated as follows:
Apples & Art Studio Tour – $4,000
Cornwall Art Walk – $800
Cornwall Community Museum – $3,000
Cornwall Escape Bike Tours – $11,460
Essential Kitchen – $7,030
Holiday Sparkle – $7,725
Inbound Tourism Program Jolly Tours – $6,939
Lost Villages Brewery – 25,000
Native North American Traveling College – $3,000
Paperboat Farms – $3,000
Perch Magazine – $7,267
World Junior A Hockey Challenge – $25,000
The Tourism Development Fund is generated from the proceeds of the Municipal Accommodation Tax and is administered by the TDCC.
2022 Funding
The approximate amount of funding available for 2022 is estimated at $300,000 and the intake of applications has already begun. Applications are first reviewed by a committee of industry experts with final decisions made by the TDCC Board.
Eligibility for funding is outlined on CornwallTourism.com, and interested parties can contact Amy Malyon, Tourism Coordinator for further assistance with the application process if required. Applicants are required to submit their application at least three months in advance of their project date.
About the Tourism Development Fund
The Cornwall Tourism Development Fund was established in 2019 to support efforts to grow tourism activity in the City of Cornwall. The fund supports a broad range of tourism projects, including festivals, events and attractions. The fund is managed by the Tourism Development Corporation of Cornwall, a not-for-profit corporation. For additional information on the Tourism Development Fund and to access the application forms, please  use the following link: