Training Board Releases Local Labour Market Plan
March 31, 2022
Cornwall Ontario – Cornwall's labour market continues to be both complex and competitive, according to the new Local Labour Market Plan prepared by Eastern Ontario Training Board.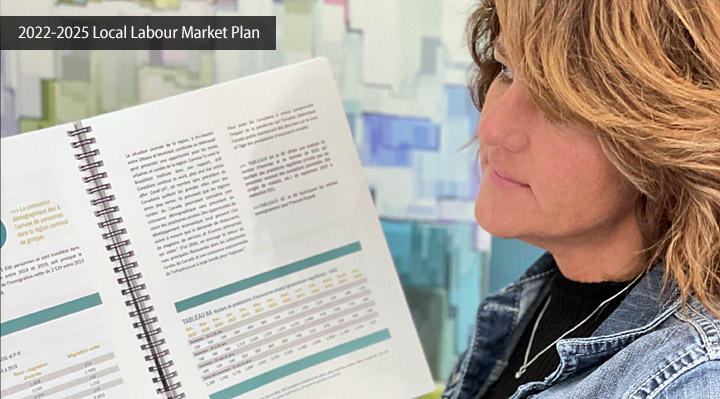 The 61 page bilingual document provides an analysis of labour market data for Cornwall, Stormont Dundas and Glengarry along with the United Counties of Prescott and Russell.
"Local companies continue to find challenges to find skilled experienced workers," says Martha Woods, Executive Director of the Eastern Ontario Training Board.  "The report highlights collaborative actions to address labour shortages as well as efforts to assist workers to upgrade their skills."
The local labour market plan identifies stakeholders' efforts to address four key priorities for workforce development:
Transitioning Workers to meet labour market shortages.
Advancing workforce development and succession planning.
Encouraging community Planning that leverages talent and supports prosperity.
Gathering, analyzing and communicating meaningful labour market information.
The report identifies that retaining existing residents and attracting and retaining newcomers is an important component of workforce development. Demographic data notes modest population growth in recent years.
The report indicates that there are 775 jobs projected to be created in SDG in the next three years with the greatest growth in Health and Social Assistance; Retail Trade; Arts and Culture, Sports and REcreation and Transportation and Warehousing sectors. In PR, 1,666 jobs are projected to be created with the greatest increases taking place in Health and Social Assistance; Retail Trade; Accommodation and Food Services and Construction sectors.
The Eastern Ontario Training Board has been releasing annual reviews of the labour market since 2011.
Copies of the 2022-2025 Local Labour Market Plan are available from the EOTB office at 16 Second Street West or by calling 613-932-0210.
About the Eastern Ontario Training Board
The Eastern Ontario Training Board (EOTB) was established to play a leading role in labour force development. It undertakes a number of projects throughout the year. More info can be found online: