Training Now Available for Local Contractors and Construction Industry
July 8, 2021
Cornwall Ontario – Local employers in the construction industry can now get access to innovative sector-based training. The best part? Qualified employers can receive 100% funding for eligible training costs.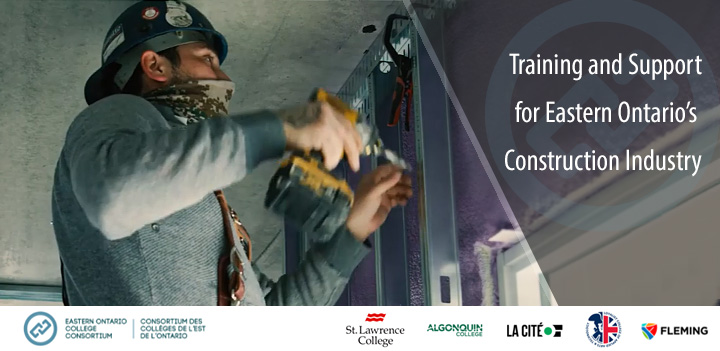 St. Lawrence College along with Algonquin College, La Cité, Loyalist and Fleming make up the Eastern Ontario College Consortium, created specifically to service the workforce development needs of the region. The construction training program is part of a Skills Advance Ontario initiative and is funded in part by the Government of Canada and the Government of Ontario.
Training can be delivered at the company's site, at St. Lawrence College, at a third-party location, or even online, depending on space and equipment needs and public health guidelines.
"We'll work with you to deliver training in the way that best supports you and your team, whether it's in person, virtually or a mix of both," says David Osmond, Manager of Corporate Skills, Training and Economic Development at St. Lawrence College. "Let us come to you, on your schedule."
Training is available across an unparalleled range of industry-relevant topics, including:
Leadership, Management and Supervision
Project Management
Specialized Equipment Operation
Health and Safety and Workplace Wellness
A similar program was recently completed to support Eastern Ontario's steel and aluminum and metal fabrication sectors. The program resulted in significant benefits to employers, with 92% seeing improved workforce retention.
"Our goal is to duplicate this success for the construction sector," says Mr. Osmond.
Employment in the Canadian construction industry is growing and is expected to top 1.5 million Canadians by the year 2025. With major infrastructure projects underway across Eastern Ontario, the regional workforce is also expected to grow.
More Information
More information on this program is available by contacting Beth Steel at St. Lawrence College by phone at 613-246-1082 or via email to bsteel@sl.on.ca. You can also watch a short video here.
About the Eastern Ontario Colleges Consortium
The Eastern Ontario College Consortium is a coalition of five Eastern Ontario colleges that came together to support skills and workforce development in Eastern Ontario. It helps deliver innovative, sector-based workforce training and development programs and help fill the pipeline of trained talent for a stronger future.
About St. Lawrence College
St. Lawrence College is an integral part of the economic life and social fabric of Eastern Ontario, with campuses in Kingston, Brockville, and Cornwall. St. Lawrence College consistently ranks as one of Ontario's leading community colleges, preparing students for the global economy with relevant, practical, and experiential learning opportunities. Offering over 100 full-time programs, St. Lawrence College is a close-knit community of 10,000 full-time students and more than 100,000 alumni.