Transition Cornwall+ Receives Sustainability Star Award
January 28, 2020
Cornwall Ontario – The efforts of a local group to promote environmental sustainability have recognized with a 2019 Sustainability Star Award.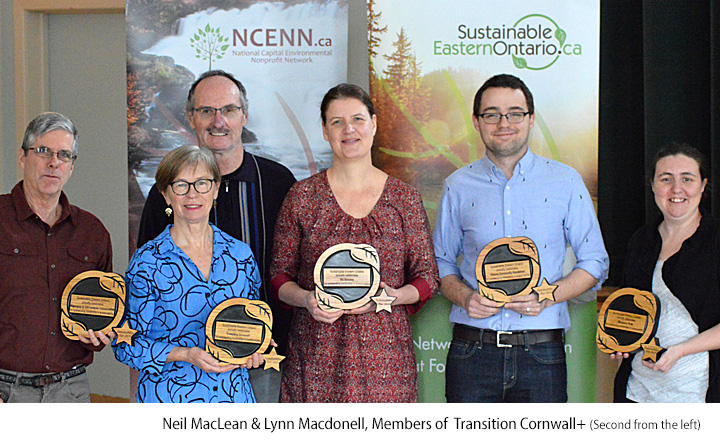 Transition Cornwall+ is a local group of dedicated volunteers with a passion for engaging Cornwall and neighbouring communities in facing challenges such as the rising cost of energy and food, extreme weather, and financial uncertainty.
"We were surprised to learn about the Sustainability Star Award" says Lynn Macdonell, Steering Committee Member for Transition Cornwall + who will be receiving the award. "Resiliency and environmental sustainability are central to TC+, and it is so humbling and rewarding to have our work recognized and celebrated with the larger Ontario community."
Established in 2017, the Sustainability Star Award is intended for groups or businesses working in areas such as safeguarding water quality, improving access to sustainable transportation options, protecting nature, sharing knowledge of sustainable living, enhancing food security, and developing green businesses and communities. The awards are part of Sustainable Eastern Ontario, a networking and capacity building organization that works with over 350 groups across the Eastern Ontario region to foster collaboration and increase the ability of the environmental non-profit sector to do good work.
Over the last ten years, Transition Cornwall+ has been working to create a more affordable, caring, healthy and secure future for all. It has encouraged residents to drive less, cycle and walk more, plant trees, grown their own food, and reduce overall waste – all actions that can be taken right now to help address the climate emergency. Transition Cornwall+ is a working group with the Social Development Council of Cornwall and Area.
You can learn more about Transition Cornwall online:
Categorised in: Business, Community, Environment, General, News