Transition Into Spring This Saturday
March 17, 2023
Cornwall Ontario – Seedy Saturday has changed this year, and the new event is expected to attract up to 1500 people to the Benson Centre.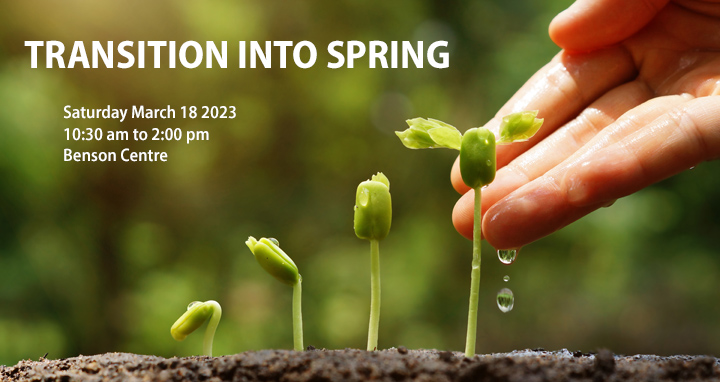 The Transition Into Spring event has been designed to inspire connection and sustainable living in Cornwall and SDG.
"We know you have all loved Seedy Saturday, so we promise this event will include many of the fan favourites including the seed swap tables, children's activities, ask a gardener tables, and free gardening workshops," says Kat Rendek, who is organizing this event on behalf of the Transition Cornwall + Food Action Group. "The only difference is "Transition Into Spring" will also offer new ways for attendees to live more sustainably in their day-to-day lives, especially as we move into spring and summer months. We really want you to leave singing the words 'swap, share, repair, reuse, plant, conserve, restore… and compost'."
Transition into Spring takes places Saturday March 18th at the Benson Centre and will run from 10:30 am to 2:00 pm. Admission is free.
Over 25 local vendor and exhibitors will be on hand, including seed and gardening tool suppliers, fresh and baked good producers, ecological design experts, farmers market coordinators and more. There will also be four workshops covering topics such as organic seeds, pollinators and growing vegetables in pots.
Another popular feature will be Swap Tables where people can drop off and/or swap unused kitchen gadgets, recipe books, gardening tools and craft supplies.
The family friendly event will include 15 activity stations and parents are encouraged to bring the kids.
More Info
Click on the following link for more info on Transition Into Spring:
About Transition Cornwall +
Transition Cornwall+ supports Cornwall and neighbouring communities in facing challenges such as the rising cost of energy and food, extreme weather, and financial uncertainty. It is a working group with the Social Development Council of Cornwall and Area.
Categorised in: Business, Community, Environment, General, News