U-Haul Bringing Jobs and Self-Storage to Brookdale Avenue
May 29, 2023
Cornwall Ontario – U-Haul is investing in Cornwall and has announced plans to revitalize a commercial property that has been vacant since 2020.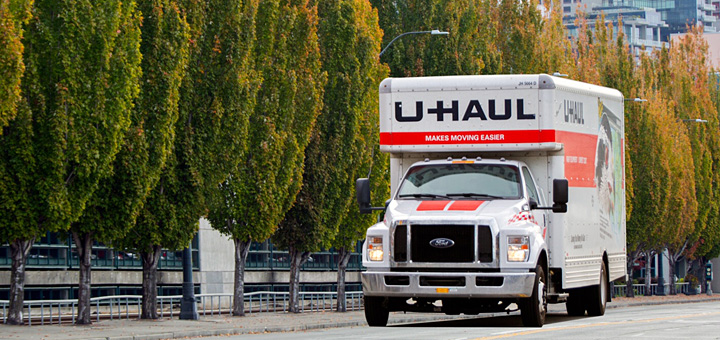 U-Haul Moving & Storage of Seaway Valley will make use of the 131,520-square-foot building at 950 Brookdale Ave that once housed a Lowe's® home improvement center. The property was acquired on April 21.
The store will soon offer residential mobility services like trailer and truck rentals, boxes and moving supplies, towing equipment and much more from a temporary showroom.
Adaptive reuse plans call for the creation of more than 650 indoor climate-controlled self-storage units with high-tech security features at affordable price points. Self-storage lockers will be available for rent in early 2024. Propane and professional hitch installation will also be offered soon.
"Cornwall is a beautiful place, and it doesn't deserve to have empty buildings sitting around and becoming eyesores in the community," stated Paul Parker, U-Haul Company of Northeastern Ontario president. "We're excited to freshen up this property and give it a purpose again, while bringing needed moving and storage services to the residents here."
Acquisition of the former Lowe's was driven by U-Haul Corporate Sustainability initiatives: U-Haul supports infill developments to help local communities lower their carbon footprint. The adaptive reuse of existing buildings reduces the amount of energy and resources required for new-building materials and helps cities reduce their unwanted inventory of unused buildings.
"We're pleased to meet the demands of DIY movers with our first company-owned and -operated facility in Cornwall," added Mr. Parker. "We encourage other businesses to invest in Cornwall just as we are doing. We look forward to being a member of this community for many years to come."
U-Haul will look to hire locally to promote job growth within the Cornwall community and plan to hire at least 16 team members to staff the new store.
About U-HAUL
Founded in 1945, U-Haul is the No. 1 choice of do-it-yourself movers, with a network of more than 23,000 locations across all 50 states and 10 Canadian provinces. The U-Haul fleet has grown to approximately 186,000 trucks, 128,000 trailers and 46,000 towing devices. U-Haul is the third largest self-storage operator in North America and offers 913,000 rentable storage units and 78.1 million square feet of self-storage space at owned and managed facilities.
Reserve equipment at uhaul.com or contact Reservations at 1-800-GO-UHAUL.