Untapped Workforce Seminar to Explore Hiring People with Disabilities
April 25, 2019
Cornwall Ontario – An upcoming seminar seeks to help local companies find reliable employees.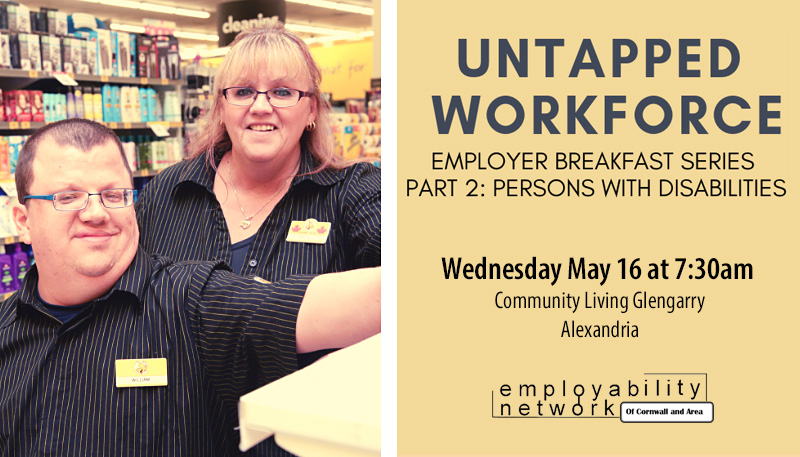 On February 28, the Employability Network held a successful workshop that sought to help local employers explore the local untapped workforce by examining issues surounding hiring somone with a criminal record. On Wednesday May 16, the second part of that seminar will explore hiring people with disabilities.
Once again, a line up of guest speakers will discuss how companies can create a diverse and inclusive workforce all while increasing productivity, positively impacting its bottom line, improving workplace moral and providing an opportunity to let someone's abilities shine.
"As an employer who is looking to hire the most qualified individual, you will want to look at the largest pool of candidates available – this will include people with disabilities," says Peter Gray of Performance Plus Rehabilitative Care.
Mr. Gray provides personal employment counselling services to people with physical, psychological or developmental disabilities looking to enter the workforce. He will share his experiences while exploring the many benefits employers enjoy when hiring someone with a disability.
Seminar participants will also have the opportunity to hear from the Community Living Glengarry team; Maurice Dupelle, Manager of Employment Connectors, Volunteers and Fundraising and Danielle Duranceau, Executive Director.
"Our candidates are motivated and eager to demonstrate their capabilities. They have also proven to have long-term commitments to their employers," says Mr. Dupelle.
This is the second of a series of employer breakfast seminars being organized by the Social Development Council of Cornwall and Area's Employability Network, in partnership with Eastern Ontario Training Board.
"With the changing job market, the Employability Network is here to help local employers explore our local untapped workforce, increase employee retention and create a more inclusive workplace," says Carilyne Hebert, Executive Director of the Social Development Council of Cornwall and Area.
Registration
There is no cost to attend the seminar however seating is limited. The meeting starts at 7:30am and includes a breakfast. To register for your free ticket, click on the following link:
About the Employability Network
The Employability Network  consists of members from several community agencies and institutions representing a cross-section of social, economic, educational and training sectors in the Cornwall and SDG area. Its goal is to focus on bridging the gap to obtaining gainful and sustainable employment for the unemployed or working poor individuals and families in the community and surrounding areas.
About the Social Development Council
Social Development Council of Cornwall and Area was formed in 2006 to build and strengthen the local communities. Its mission focuses on the social and economic impact on individuals, families and communities at large.