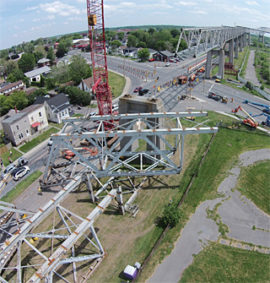 Update on Cornwall Bridge Demolition
June 19, 2015
Cornwall Ontario – People travelling from Cornwall to the United States on the new bridge are treated to a once in a lifetime sight: the dismantling and demolition of the former bridge that once spanned the St. Lawrence River.
According to the Federal Bridge Corporation, the project is progressing very well.
The dismantling of the metal superstructure has progressed past Second Street as crews steadfastly make their way south. The deck demolition to the south approach on Cornwall Island was completed last week.
The NEW Cornwall bridge remains open and accessible for people looking to travel between Canada and the USA.
The superstructure demolition to pier 2N will be ongoing until mid-August and the superstructure demolition of the arch span (piers 1N to 1S) over the Canal is scheduled to occur between mid-August and mid-September. A more specific day within that time span for dropping the arch will be announced at a later date.
A barge with a crane on board for the superstructure demolition over the North Channel (piers 3S to 7S) has arrived at Cornwall Harbour. This demolition is expected to last until mid-September.
Additional superstructure spans will come down next fall, and pier demolition will follow throughout the year with the largest piers coming down through the winter of 2016.
As one can imagine, each element of the superstructure that is lifted away for dismantling on the ground represents a considerable challenge due to weight and sheer size. Pick weights vary for each span lifted. For example, from Pier 10N to 7N, the anticipated weights range from +/- 110 tons to +/- 140 tons.
The dropped superstructure spans are cut down into sections that are then moved to the yard for additional cutting to be shipped to a foundry.
The Federal Bridge Corporation notes that the above information is subject to change and variation depending on multiple factors such as weather, equipment, unofreseen events, etc..
For more information, including photos of the work in progress, please check out this website:
About the Seaway International Bridge
Plans for the construction of the Seaway International Bridge were initiated in 1957 and consisted in building an international toll bridge system between the City of Cornwall and Akwesasne in Ontario and Massena, New York with the South Channel Bridge (1958) located on the US side of Cornwall Island and the North Channel Bridge (1962) located on the Canadian side.
Today, the Seaway International Bridge is one of three Canada-USA border crossings in Eastern Ontario and handles over 120,000 commercial and 2,300,000 passenger transits annually.