Walmart Canada Launches Blockchain-based Freight and Payment Network
November 15, 2019
Cornwall Ontario –  Walmart Canada is automating freight and payment data, and the new system is expected to be the world's largest full production blockchain solution.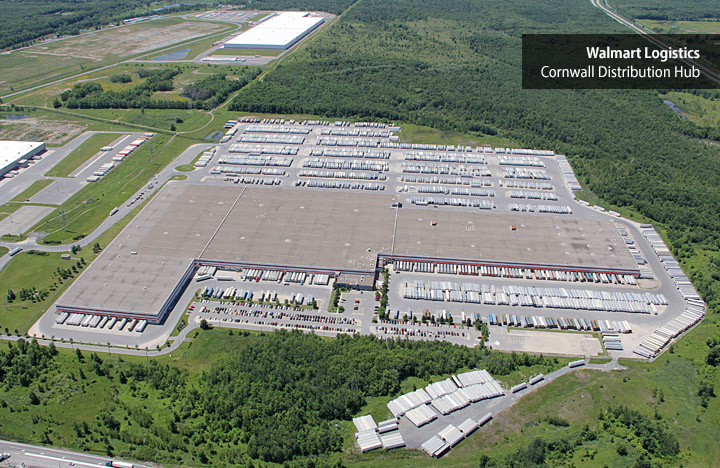 The new network establishes state-of-the-art collaboration and information sharing with 70 third-party trucking companies that transport inventory for Walmart Canada nationally. The system, developed in partnership with DLT Labs, uses distributed ledger technology to track deliveries, verify transactions, and automate payments and reconciliation among Walmart Canada and its carriers which deliver inventory to over 400 retail stores across Canada annually. All of Walmart Canada's third-party carriers are scheduled to be live by February 2020. The solution is accessible using a web portal and an easy to use mobile application.
"Walmart Canada is dedicated to efficiency across our business, including most importantly in our supply chain and logistics management," says John Bayliss, Senior Vice-President, Logistics and Supply Chain, Walmart Canada. "Our carrier partners move over 500,000 loads of inventory nationally, which creates an extraordinary volume of transaction data. This new dynamic and interactive blockchain technology platform is creating complete transparency between Walmart Canada and all of our carrier partners."
Walmart Canada's distribution centres are hubs of activity with more than 4,500 associates and drivers moving more than 853 million cases of merchandise annually. These goods are transported by a combination of 3rd party carriers as well as Walmart Canada's own fleet of 180 tractors, 2,000 trailers and more than 350 drivers. Each third-party trailer tracks approximately 200 data points per shipment. Automating this data collection and management using blockchain results in a significant cost-saving.
Two of Walmart's distribution centres are located in the Cornwall Business Park, representing 3 million square feet of the 8.75 million square feet of distribution center space it operates in Canada.
"Blockchain is enabling a material advance in our smart transportation network, with expedited payments, extensive cost savings and other benefits among our supply chain," adds Mr. Bayliss. "Moreover, this degree of improved efficiency represents a powerful platform for us to continue to reduce our environmental footprint and continue our leadership in environmental sustainability."
Walmart Canada is committed to ongoing leadership in developing smart transportation networks, having already established more efficient techniques for loading, routing, driving, and energy efficient improvements with truck manufacturers. Interconnecting the data between Walmart Canada and its carrier partners provides a platform to materially improve operations, delivery coordination and routing efficiency, waste and cost reduction, and automated payment reconciliation and processing.
These benefits are possible due to the inherent characteristics of blockchain technology which enables shared, immutable and highly auditable store of data on a secure, shared ledger. While the application of blockchain technology in industry has long been discussed, this is the first practical implementation at scale, and it clearly demonstrates blockchain's significant benefits. Moreover, this platform is being used in a mission-critical area of Walmart Canada's business, its supply chain, and has had to meet the highest levels of security and testing.
Jobs at Walmart Logistics in Cornwall
Walmart Logistics is once again actively recruiting for its distribution hub in Cornwall. Job postings can be viewed on the ChooseCornwall.ca Job Board.
About the Cornwall Distribution Hub
Walmart's Cornwall Distribution Hub is comprised of two large buildings, the Harmony Distribution Centre and the Regional Distribution Centre.  Both buildings, measuring 1.5 million sq.ft. each, are located in the Cornwall Business Park.
The Harmony Distribution Centre handles fresh produce, dairy and meat products that form the core of Walmart's growing grocery business.  It also houses Walmart fleet operations, along with dealing with imported goods and high velocity items.
Together, the Harmony and Regional Distribution Centre form a Cornwall campus that handles over 500,000 packages a day.
About Walmart Canada
Walmart Canada operates a growing chain of more than 400 stores nationwide serving more than 1.2 million customers each day. Walmart Canada's flagship online store, walmart.ca is visited by 750,000 customers daily. With more than 85,000 associates, Walmart Canada is one of Canada's largest employers and is ranked one of the country's top 10 most influential brands. Walmart Canada's extensive philanthropy program is focused on supporting Canadian families in need, and since 1994 Walmart Canada has raised and donated more than $400 million to Canadian charities.