Walmart Fleet to Hold Open House August 10th
July 26, 2019
Cornwall Ontario – Walmart Fleet is hosting an open house on August 10 for AZ drivers interested in working for the world's largest and most recognizable retailer.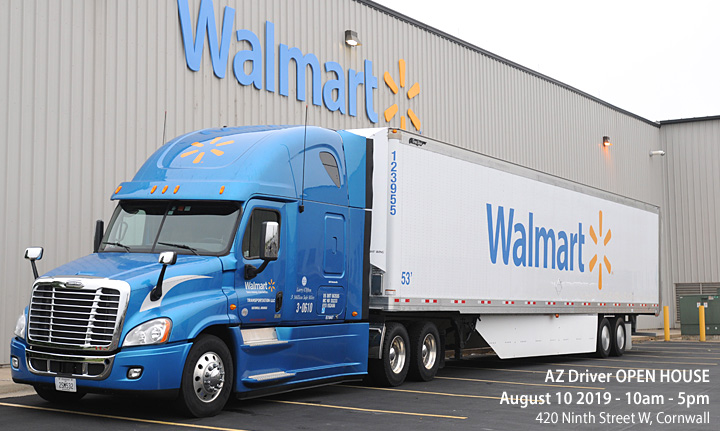 "We are looking to add drivers to our team and the open house provides and opportunity to  see how we operate," says Isabelle Menard, Recruitment Specialist with Walmart Fleet in Cornwall. "We offer a competitive salary starting at $22.85 per hour and an excellent benefits package."
Walmart is looking to attract drivers with a valid AZ driver's license and a minimum of 2 years' verifiable tractor trailer driving experience.
The Open House will run from 10:00am to 5:00pm at Walmart's Supercentre at 420 Ninth Street West in Cornwall.
Each day Walmart Fleet drivers deliver products from the Cornwall Distribution Hub to Walmart stores throughout Eastern Ontario, Quebec and the Maritimes.
In September 2018, Walmart Canada announced plans to power its fleet using 100 per cent alternative power by 2028.  The move comes as Walmart Canada continues to put sustainability at the forefront of its business operations, finding new and innovative ways to reduce its carbon footprint while continuing to focus on the critical issue of driver safety.
"We are always looking for innovative ways to minimize our impact on the environment and lead the industry in the drive for sustainable change," said John Bayliss, Senior Vice-President, Logistics and Supply Chain, Walmart Canada. "By converting 20 per cent of our fleet to electric vehicles by 2022 and committing to alternative power for all fleet vehicles by 2028, we are putting safety, innovation and sustainability at the forefront of our logistics network."
Career opportunities in supply chain management and transportation have been on the rise in Eastern Ontario, making logistics one of the hottest sectors in the region. This growth has been led by Walmart as it expands its state-of-the-art Cornwall Distribution Hub.
Job Postings
Job postings can be viewed on the ChooseCornwall.ca Job Board.
About the Cornwall Distribution Hub
Walmart's Cornwall Distribution Hub is comprised of two large buildings, the Harmony Distribution Centre and the Regional Distribution Centre.  Both buildings, measuring 1.5 million sq.ft. each, are located in the Cornwall Business Park.
The Harmony Distribution Centre handles fresh produce, dairy and meat products that form the core of Walmart's growing grocery business.  It also houses Walmart fleet operations, along with dealing with imported goods and high velocity items.
Together, the Harmony and Regional Distribution Centre form a Cornwall campus that handles over 500,000 packages a day.
About Walmart Canada Logistics
Walmart Canada's distribution centres are hubs of activity, with more than 4,500 associates and drivers moving thousands of items daily from sites located in Calgary, Mississauga and Cornwall to stores from coast to coast. Walmart Canada operates 8.75 million square feet of distribution centre and will move approximately 853 million cases of merchandise in FY19. These goods are transported by a combination of 3rd party fleet as well as Walmart Canada's fleet of 180 tractors, 2,000 trailers and more than 350 drivers. Walmart associates receive competitive wages and benefits, and enjoy working in a team environment with an inclusive culture. Associates have unparalleled career mobility, training, learning and development opportunities, and the ability to shape their own careers.
About Walmart Canada
Walmart Canada operates a growing chain of over 400 stores nationwide serving more than 1.2 million customers each day. Walmart Canada's flagship online store, walmart.ca is visited by 750,000 customers daily. With more than 85,000 associates, Walmart Canada is one of Canada's largest employers and is ranked one of the country's top 10 most influential brands. Walmart Canada's extensive philanthropy program is focused on supporting Canadian families in need, and since 1994 Walmart Canada has raised and donated more than $350 million to Canadian charities. Additional information can be found at: