Walmart Hiring 10,000 More Associates
March 22, 2020
Cornwall Ontario – Walmart Canada is looking is taking a number of measures to support Canadian communities, and that includes hiring 10,000 additional workers.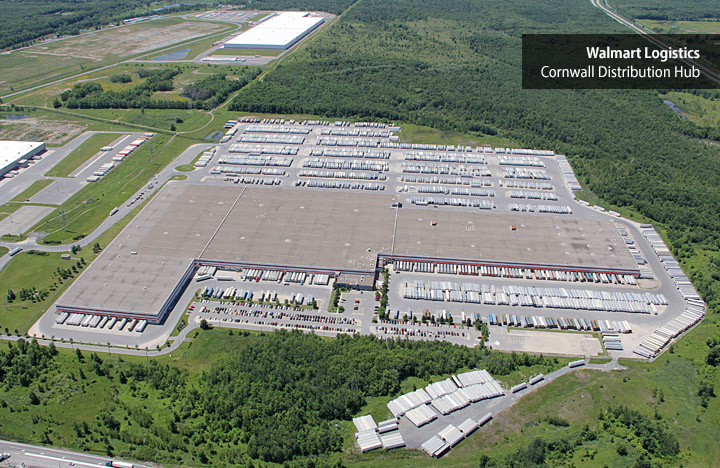 The company will be hiring for both stores and its logistics operations, including the two distributions centres in Cornwall. Job postings can be found on the Job Board.
"This is an extraordinarily difficult time, but Walmart Canada will do all we can for the well-being of our customers, our neighbours and our Associates," said Horacio Barbeito, President and CEO of Walmart Canada.
In an open memo on its website, Mr. Barbeito outlined a number of measures that Walmart is taking to support the effort to combat COVID-19:
Stores will remain open.
Each day, from 7am to 8am, the opening hour will be  exclusively for seniors, the disabled and those with vulnerable health conditions.
There's plenty of food and supplies. Walmart teams are working around the clock to replenish our shelves to deal with demand.
To manage supply, some stores are limiting quantities per customer to ensure there are more products available for more customers.
Pickup and delivery demand is high. To help Canadians self-isolate, changes have been made to allow grocery home deliveries to be left at their door.
As of March 23rd, regular store operating hours in Ontario will be reduced to 8 am to 8 pm every day in order to properly stock items and sanitize stores.
Walmart Canada is also making an immediate $1 million donation so that its charity partners can provide immediate service. Additionally, the Walmart Foundation is committing to invest $1 million for meeting immediate needs in Canada in the coming days – for a total of $2 million dollars.
This includes an additional $500,000 to Food Banks Canada so they can share critical food resources with local food banks across Canada and an immediate $500,000 investment in the Canadian Red Cross to support domestic relief and recovery operations. And we'll support any nation-wide relief campaigns in our stores.
Walmart is also taking steps to provide additional support for Associates affected by the crisis, including access to live online physician care and accelerating annual bonus payments to recognize the hard work of associates.
Job Postings
Current job postings can be viewed on the ChooseCornwall.ca Job Board.
About the Cornwall Distribution Hub
Walmart's Cornwall Distribution Hub is comprised of two large buildings, the Harmony Distribution Centre and the Regional Distribution Centre.  Both buildings, measuring 1.5 million sq.ft. each, are located in the Cornwall Business Park.
The Harmony Distribution Centre handles fresh produce, dairy and meat products that form the core of Walmart's growing grocery business.  It also houses Walmart fleet operations, along with dealing with imported goods and high velocity items.
Together, the Harmony and Regional Distribution Centre form a Cornwall campus that handles over 500,000 packages a day.
About Walmart Canada Logistics
Walmart Canada's distribution centres are hubs of activity, with more than 4,500 associates and drivers moving thousands of items daily from sites located in Calgary, Mississauga and Cornwall to stores from coast to coast. Walmart Canada operates 8.75 million square feet of distribution centre and will move approximately 853 million cases of merchandise in FY19. These goods are transported by a combination of 3rd party fleet as well as Walmart Canada's fleet of 180 tractors, 2,000 trailers and more than 350 drivers. Walmart associates receive competitive wages and benefits, and enjoy working in a team environment with an inclusive culture. Associates have unparalleled career mobility, training, learning and development opportunities, and the ability to shape their own careers.
About Walmart Canada
Walmart Canada operates a growing chain of over 400 stores nationwide serving more than 1.2 million customers each day. Walmart Canada's flagship online store, walmart.ca is visited by 750,000 customers daily. With more than 85,000 associates, Walmart Canada is one of Canada's largest employers and is ranked one of the country's top 10 most influential brands. Walmart Canada's extensive philanthropy program is focused on supporting Canadian families in need, and since 1994 Walmart Canada has raised and donated more than $350 million to Canadian charities. Additional information can be found at: