Walmart Logistics Actively Recruiting for Cornwall Distribution Hub
September 6, 2019
Cornwall Ontario – Walmart Logistics is once again actively recruiting for its distribution hub in Cornwall.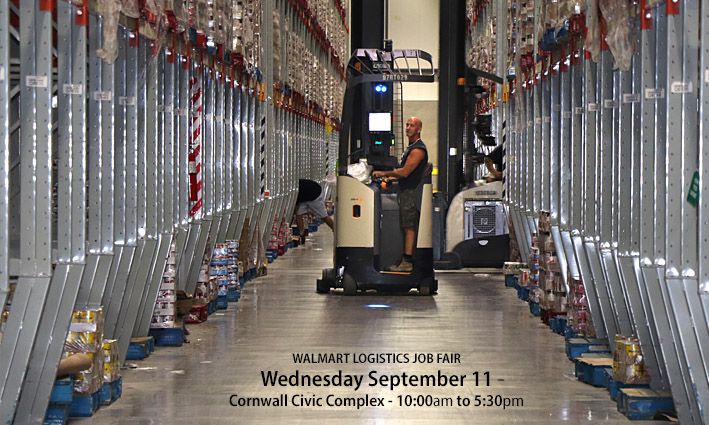 Business  is growing at Walmart Canada's grocery division and that means more activity at its Cornwall distribution centres.
Walmart Logistics will be holding a job fair on Wednesday September 11 at the Cornwall Civic Complex from 10:00 am to 5:30 pm. The event will be held in the Salons ABC.
Earlier this year,  Walmart Canada announced an investment of $200 million in its store network, with a focus on refurbishing and refreshing 31 stores. Over the last five years, the company has invested over $1 billion in its Canadian store network.
The Cornwall Distribution Hub supplies Walmart stores throughout Eastern Canada with quality merchandise including grocery products. The Hub is located in two separate buildings in the Cornwall Business Park, which is also home to the Walmart fleet operations.
This latest recruitment effort follows similar job fairs hosted by Walmart Logistics over the past 3 years as the company continues to ramp up operations within the Cornwall Distribution Hub.
"The Cornwall Distribution Hub is a respectful, supportive team-based environment where associates can further their careers in warehousing and leadership," says Kayla Steele, Human Resources Administrator with Walmart Logistics.  "We offer competitive wages and health benefits, along with company matched pension and stock purchase plans."
Beyond the distribution centres, opportunities also exist with Walmart Fleet, which transports the goods to Walmart stores throughout Eastern Canada.
"Driving a truck can be a very rewarding career – it is an excellent opportunity to travel and be home with your family on a daily basis,"   says Isabelle Menard, Recruitment Specialist with Walmart Fleet. ""We are looking for AZ drivers who have 2 years of experience on the road and the flexibility to work evenings, nights and weekend shifts."
Career opportunities in supply chain management and transportation have been on the rise in Eastern Ontario, making logistics one of the hottest sectors in the region. This growth has been led by Walmart as it expands its state-of-the-art Cornwall Distribution Hub.
Job Postings
Job postings can be viewed on the ChooseCornwall.ca Job Board.
About the Cornwall Distribution Hub
Walmart's Cornwall Distribution Hub is comprised of two large buildings, the Harmony Distribution Centre and the Regional Distribution Centre.  Both buildings, measuring 1.5 million sq.ft. each, are located in the Cornwall Business Park.
The Harmony Distribution Centre handles fresh produce, dairy and meat products that form the core of Walmart's growing grocery business.  It also houses Walmart fleet operations, along with dealing with imported goods and high velocity items.
Together, the Harmony and Regional Distribution Centre form a Cornwall campus that handles over 500,000 packages a day.
About Walmart Canada Logistics
Walmart Canada's distribution centres are hubs of activity, with more than 4,500 associates and drivers moving thousands of items daily from sites located in Calgary, Mississauga and Cornwall to stores from coast to coast. Walmart Canada operates 8.75 million square feet of distribution centre and will move approximately 853 million cases of merchandise in FY19. These goods are transported by a combination of 3rd party fleet as well as Walmart Canada's fleet of 180 tractors, 2,000 trailers and more than 350 drivers. Walmart associates receive competitive wages and benefits, and enjoy working in a team environment with an inclusive culture. Associates have unparalleled career mobility, training, learning and development opportunities, and the ability to shape their own careers.
About Walmart Canada
Walmart Canada operates a growing chain of over 400 stores nationwide serving more than 1.2 million customers each day. Walmart Canada's flagship online store, walmart.ca is visited by 750,000 customers daily. With more than 85,000 associates, Walmart Canada is one of Canada's largest employers and is ranked one of the country's top 10 most influential brands. Walmart Canada's extensive philanthropy program is focused on supporting Canadian families in need, and since 1994 Walmart Canada has raised and donated more than $350 million to Canadian charities. Additional information can be found at: