Walmart Logistics Continues to Build Cornwall Distribution Hub
February 14, 2020
Cornwall Ontario – Walmart Logistics is once again actively recruiting for its distribution hub in Cornwall.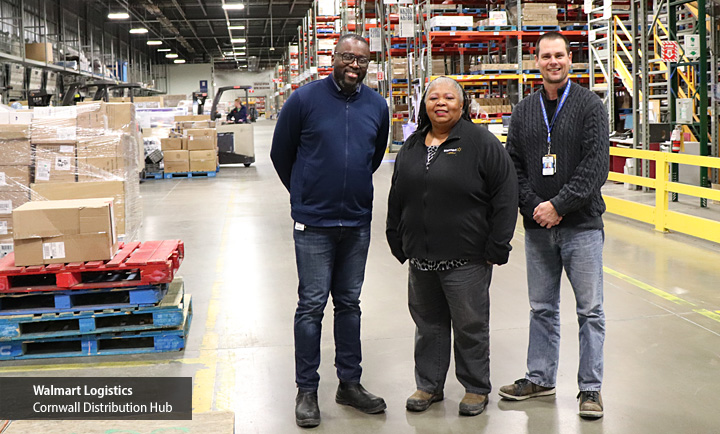 Canada's leading retailer and Cornwall's largest employer is looking to recruit an additional 150 associates over the first six months of 2020.
"Business continues to grow and that means more activity at our Cornwall distribution centres," says Rene-Paul Gomis, Human Resources Manager for Walmart Logistics.
The Cornwall Distribution Hub supplies Walmart stores throughout Eastern Canada with quality merchandise including grocery products. The Hub is located in two separate buildings in the Cornwall Business Park, which is also home to the Walmart fleet operations.
The company has been very active recruiting new workers, adding 500 new positions and bringing the Cornwall workforce to over 2000.
Over the last five years, the company has invested over $1 billion in its Canadian store network, including $200 million in 2019 to refurbish and refresh 31 stores.  Walmart is also automating freight and payment data, and the new system is expected to be the world's largest full production blockchain solution.
"As new technology becomes available, we adapt it to ensure that we continue to be provide the best possible service to our customers and to ensure our distribution network is as efficient as possible," says Mr. Gomis.
2020 recruitment efforts have begun, offering competitive wages and health benefits, along with company matched pension and stock purchase plans. These include opportunities with Walmart Fleet, which transports the goods to Walmart stores throughout Eastern Canada.
Job Postings
Job postings can be viewed on the ChooseCornwall.ca Job Board.
About the Cornwall Distribution Hub
Walmart's Cornwall Distribution Hub is comprised of two large buildings, the Harmony Distribution Centre and the Regional Distribution Centre.  Both buildings, measuring 1.5 million sq.ft. each, are located in the Cornwall Business Park.
The Harmony Distribution Centre handles fresh produce, dairy and meat products that form the core of Walmart's growing grocery business.  It also houses Walmart fleet operations, along with dealing with imported goods and high velocity items.
Together, the Harmony and Regional Distribution Centre form a Cornwall campus that handles over 500,000 packages a day.
About Walmart Canada Logistics
Walmart Canada's distribution centres are hubs of activity, with more than 4,500 associates and drivers moving thousands of items daily from sites located in Calgary, Mississauga and Cornwall to stores from coast to coast. Walmart Canada operates 8.75 million square feet of distribution centre and will move approximately 853 million cases of merchandise in FY19. These goods are transported by a combination of 3rd party fleet as well as Walmart Canada's fleet of 180 tractors, 2,000 trailers and more than 350 drivers. Walmart associates receive competitive wages and benefits, and enjoy working in a team environment with an inclusive culture. Associates have unparalleled career mobility, training, learning and development opportunities, and the ability to shape their own careers.
About Walmart Canada
Walmart Canada operates a growing chain of over 400 stores nationwide serving more than 1.2 million customers each day. Walmart Canada's flagship online store, walmart.ca is visited by 750,000 customers daily. With more than 85,000 associates, Walmart Canada is one of Canada's largest employers and is ranked one of the country's top 10 most influential brands. Walmart Canada's extensive philanthropy program is focused on supporting Canadian families in need, and since 1994 Walmart Canada has raised and donated more than $350 million to Canadian charities. Additional information can be found at: