Walmart Logistics Holding a Job Fair on August 2
July 26, 2023
Cornwall Ontario – Walmart Logistics is looking to fill 60 positions at its distribution hub in Cornwall and will be holding a job fair in August.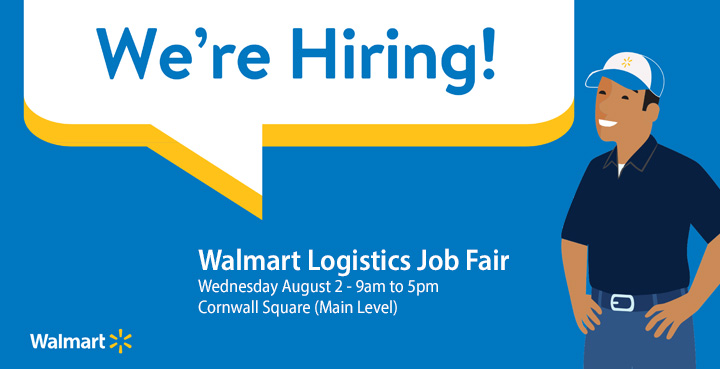 "We are now hiring Full and Part-Time Warehouse Associates at wages starting at $19.85/hr, with Overnight, Weekend and Freezer premiums," says France Pakenham, HR Recruiter with Walmart Canada Logistics. "We are are currently offering a signing bonus of $3000. There has never been a better time to join the Walmart Logisitcs Team!"
Job fairs allow job seekers to meet company officials and apply directly on site.
"The Cornwall Distribution Hub is a respectful, supportive team-based environment where associates can further their careers in warehousing and leadership," adds Ms. Pakenham. "We offer competitive wages and health benefits, a Walmart discount card, as well as company matched pension and stock purchase plans."
Career opportunities in supply chain management and transportation have been on the rise in Eastern Ontario, making logistics one of the hottest sectors in the region. This growth has been led by Walmart as it expands its state-of-the-art Cornwall Distribution Hub.
Job Fair
Walmart will hold a job fair at the following date and times:
Wednesday August 2, 2023
9:00am – 5:00pm
Cornwall Square – 1 Water Street East (1st Floor)
The above job fair is part of an ongoing recruitment campaign as the company seeks to attract more workers to Cornwall. Beyond the distribution centres, opportunities also exist with Walmart Fleet, which transports the goods to Walmart stores throughout Eastern Canada.
Job Postings
Current job postings can be viewed on the ChooseCornwall.ca Job Board.
About the Cornwall Distribution Hub
The Cornwall Distribution Hub supplies Walmart stores throughout Eastern Canada with quality merchandise including grocery products. It is comprised of two separate buildings, the Harmony Distribution Centre and the Regional Distribution Centre.  Both buildings, measuring 1.5 million sq.ft. each, are located in the Cornwall Business Park.  Together, the Harmony and Regional Distribution Centre form a Cornwall campus that handles over 500,000 packages a day.
Related Articles
About Walmart Canada
Walmart Canada operates a chain of more than 400 stores nationwide serving 1.5 million customers each day. Walmart Canada's flagship online store, Walmart.ca, is visited by more than 1.5 million customers daily. With more than 100,000 associates, Walmart Canada is one of Canada's largest employers and is ranked one of the country's top 10 most influential brands. Walmart Canada was recently recognized as a LinkedIn Top Company of 2022 and was also named one of Canada's most popular brands (based on Google searches). Walmart Canada has made a commitment to regeneration – focusing on equitable opportunity, sustainability, community, ethics and integrity. Since 1994, Walmart Canada has raised over $650 million to support communities across Canada. Additional information can be found at walmartcanada.ca and on Walmart Canada's social media pages – Facebook, Twitter, Instagram and LinkedIn.