Walmart Logistics Recruiting for Another 200 Positions
September 5, 2018
Cornwall, Ontario – Here we grow again. Walmart Logistics is once again looking to add to its workforce, and is developing a number of strategies to find employees for its Cornwall Distribution Hub.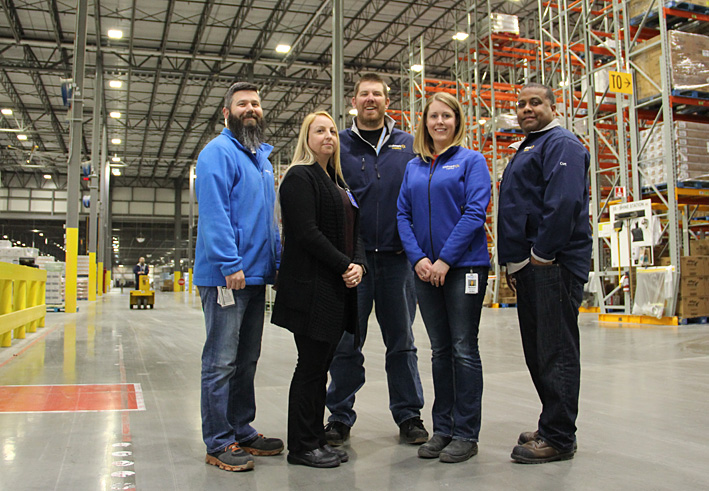 One of the those strategies will be series of job fairs in Newfoundland, starting at the Delta Conference Centre in St. John's Newfoundland on Monday September 17 from 10am to 5pm. Bonavista Officials from Walmart Logistics will be looking to hire 200 people. The job fair will be the sixth such job fair Walmart Logistics has held this year.
"Our job fairs allow job seekers to apply directly on site and helps us to identify qualified candidates quickly," said Sheila Smith, Regional Human Resources Manager with Walmart Logistics.
The Walmart team will also be heading to Grand Falls and Corner Brook later in the same week.
Walmart Logistics will also be participating in the Cornwall Job Fair being organized by the Social Development Council of SDG on October 3, and will be represented at the National Job Fair in Montreal in mid-October. In between that, the company is exploring ways to attract Canadians from other provinces to Cornwall.
"Cornwall provides a great place to live and work.  It is a family focused community and its beautiful natural surroundings supports a healthy lifestyle," says. Ms. Smith. "Our Cornwall Distribution Hub offers a wide variety of positions and very good opportunities to have a rewarding career in logistics and supply chain management."
The Cornwall Distribution Hub supplies Walmart stores throughout Eastern Canada with quality merchandise including grocery products. The Hub is located in the Cornwall Business Park and is also home to the Walmart fleet operations.
This latest recruitment effort follows similar job fairs hosted by Walmart Logistics over the past 3 years as the company continues to ramp up operations within the Cornwall Distribution Hub. Positions that will be part of this recruitment event include:
Logistics: Part time and Full time Warehouse Associates & Leadership Roles
Fleet: Full time Drivers
"The Cornwall Distribution Hub is a respectful, supportive team-based environment where associates can further their careers in warehousing and leadership," says Kayla Steele, Human Resources Administrator.  "We offer competitive wages and health benefits, along with company matched pension and stock purchase plans."
Job Postings
Job postings can be viewed on the ChooseCornwall.ca Job Board.
About the Cornwal Distribution Hub
Walmart's Cornwall Distribution Hub is comprised of two large buildings, the Harmony Distribution Centre and the Regional Distribution Centre.  Both buildings, measuring 1.5 million sq.ft. each, are located in the Cornwall Business Park.
The Harmony Distribution Centre handles fresh produce, dairy and meat products that form the core of Walmart's growing grocery business.  It also houses Walmart fleet operations, along with dealing with imported goods and high velocity items.
Together, the Harmony and Regional Distribution Centre form a Cornwall campus that handles over 500,000 packages a day.
About Walmart Canada Logistics
Walmart Canada's distribution centres are hubs of activity, with more than 4,500 associates and drivers moving thousands of items daily from sites located in Calgary, Mississauga and Cornwall to stores from coast to coast. Walmart Canada operates 8.75 million square feet of distribution center and will move approximately 853 million cases of merchandise in FY19. These goods are transported by a combination of 3rd party fleet as well as Walmart Canada's fleet of 180 tractors, 2,000 trailers and more than 350 drivers. Walmart associates receive competitive wages and benefits, and enjoy working in a team environment with an inclusive culture. Associates have unparalleled career mobility, training, learning and development opportunities, and the ability to shape their own careers.
About Walmart Canada
Walmart Canada operates a growing chain of 410 stores nationwide serving more than 1.2 million customers each day. Walmart Canada's flagship online store, walmart.ca is visited by 600,000 customers daily. With more than 85,000 associates, Walmart Canada is one of Canada's largest employers and is ranked one of the country's top 10 most influential brands. Walmart Canada's extensive philanthropy program is focused on supporting Canadian families in need, and since 1994 Walmart Canada has raised and donated more than $300 million to Canadian charities. Additional information can be found at: